Dallas Cowboys Complete Mock Draft: The Future is Now (all rounds)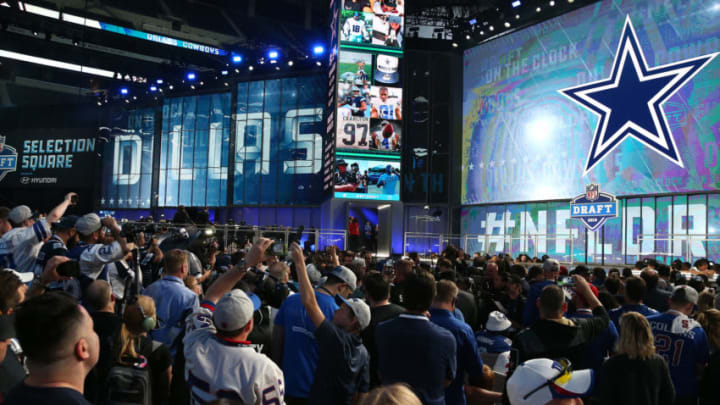 Matthew Emmons-USA TODAY Sports /
Jeffrey Swinger-USA TODAY Sports /
WITH THE 212TH PICK IN THE 2023 NFL DRAFT THE DALLAS COWBOYS SELECT:
The Dallas Cowboys traded a fifth round compensatory pick to the Houston Texas in exchange for WR Brandin Cooks. The move helps to free up the Cowboys board to take the best player available in the first several rounds. Now they seek future WR and immediate Special Teams help by selecting BYU WR Puka Nacua.
Puka Nacua made strides as a player after transferring from Washington to BYU. In his first season in 2021 he pulled in 43 catches for over 800 yards and six touchdowns. In his Junior campaign in 2022 he still managed over 800 total yards and added 10 scores despite his role in the offense changing.
Nacua was used in a variety of ways his final season as the team lost several play makers from the year before. Nacua saw his yards per catch drop from nearly 19 yards per grab down to 13.0, but also doubling his rushing attempts out of the backfield with jet sweep, screen and gadget plays. The team needed to be more creative in getting their best returning play maker the ball and it paid off.
Standing at 6'2″ 205lbs, Nacua has a good frame for the NFL to go along with good speed and play making ability with the ball in his hands. What he lacks is consistent hands despite some highlight reel plays and the quick twitch to go along with the speed. His basketball background shows up in a good way and bad way. He does a good job of positioning himself for contested catches, but also relies on it and doesn't always create a ton of separation.
When you watch the tape you'll see he will need developing as a receiver. Where he can offer immediate presence, however, is as a special teamer. He's a high energy, big effort player. He will never not put 100% into his craft.
Though their game doesn't resemble in the least, the career path for Puka Nacua could resemble former Dallas Cowboy WR Noah Brown. Earning your spot and time doing dirty work with Bones Fassel while gaining experience and growing as a WR in hopes of getting an opportunity at some point.