FC Dallas' Offense Isn't Helping Its Defense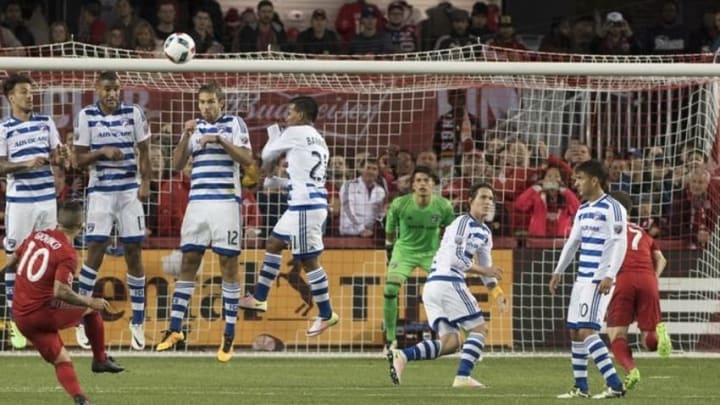 May 7, 2016; Toronto, Ontario, CAN; Toronto FC forward Sebastian Giovinco (10) kicks a free kick during the first half in a game against FC Dallas at BMO Field. Toronto FC won 1-0. Mandatory Credit: Nick Turchiaro-USA TODAY Sports /
Three losses on the trot for FC Dallas isn't exactly what we expected, given the fast start to the season.
Then again, why am I shocked?
2015
Jump up the standings and into first place in the first 8 matches, then go on a 6 game winless streak.
2014
Even worse…
Start out with 4 strong games, then go nearly two months without a win.
Why is it that FC Dallas can't seem to string together performances after the beginning of the year? Why is it that we recycle the same story year after year and lament this team's lack of consistency?
More from FC Dallas
Really, there's nothing that suggests this team doesn't have the staying power to put in solid performances week in and week out. The lineups haven't been changed too drastically from the beginning of the year. The game plans haven't been altered. The main difference between the beginning of the year and the past three games (3 losses) is rather simple; FCD hasn't put away their early chances.
Saturday night's 1-0 loss in Toronto was just the latest installment of what can only be described as the offense failing to help out the defense early in matches.
It's certainly true that your offense can sometimes be your best defense. If you score the opening goal, you can afford to drop in and be a bit more defensive. On the flip side, conceding the first goal, as FCD have in each of their last three games, leaves you having to chase the game.
FC Dallas is a team whose offensive identity is predicated on speed. They are not going to boss the game in the midfield or pass the ball skillfully around the opponent's box until they find a breakthrough. They are built around isolating their wingers on the flanks and their forwards up the middle on breakaways.
This is a great setup when you find yourself in the lead early in a match. When you score the opening goal, your opponent naturally molds into the shape the you prefer. You're able to sit back even more and then counter with devastating effect when you steal the ball away.
The problem with FC Dallas is that opponents have learned how to combat their pacey, counter-attacking offense. Instead of charging forward and trying to overload FC Dallas' end of the pitch, teams have been trying to outmuscle and outwork FCD in the midfield. This allows opponents to stay more spread out and virtually eliminates FCD's ability to run in space.
As a result, FCD has to then try to beat a team at their own game and link up well in the midfield or build from the back (neither of which we are particularly good at). Ultimately, it leaves FC Dallas playing a game they're not set up to play, which inevitably leads to teams taking an early lead.
Then, the vicious cycle plays out. Teams are able to just sit back even farther and make FCD break them down in their own half. It's a recipe that has played out for 3 games in a row to the same effect, an FC Dallas loss.
Next: FC Dallas Demonstrates Parity in MLS
If Pareja wants to come back from this atrocious three game losing streak, he'll have to look for ways to make the attack more versatile. They can't keep playing into the trap that has seem them fail to score on three consecutive occasions. Maybe coming home will be an added dynamic…goodness knows they need it.