Dallas Cowboys: See Jerry, We Told You So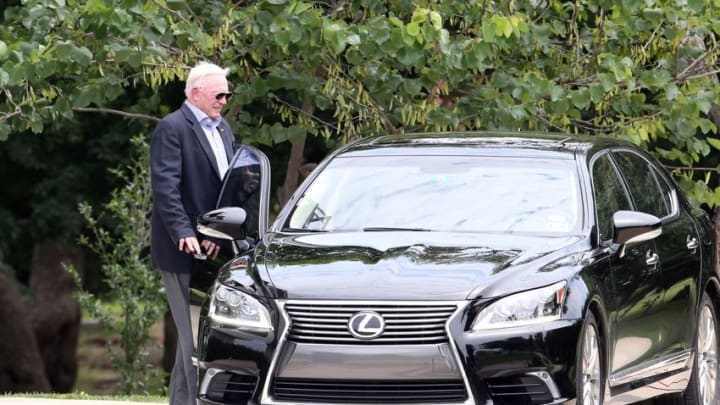 Jun 14, 2016; Irving, TX, USA; Dallas Cowboys owner Jerry Jones leaves minicamp at Dallas Cowboys Headquarters. Mandatory Credit: Matthew Emmons-USA TODAY Sports /
After Rolando McClain's suspension, many fans are telling the Dallas Cowboys' owner Jerry Jones, "We told you so." I don't think he is listening.
Another setback has befallen the Dallas Cowboys. Rolando McClain has been suspended again for another failed drug test. With the suspensions of Randy Gregory and DeMarcus Lawrence, the pass rush and the defense as a whole are looking shaky at best.
Many are wondering if the Cowboys can even survive. While it hurts the defense a lot to be missing three players, it will force the offense to carry the team even more.
It was a boom or bust type move that Jones is used to in the oil business.
This isn't just about whether or not the Cowboys will survive without these players, this is more about Jerry Jones and his issues as a general manager. Sure, he has recently started to give more power to his son. This doesn't mean there is still a football mind driving the decisions in terms of players. Stephen Jones has done better (we can thank him for not drafting Johnny Manziel), but he is still a business man first.
This causes the Cowboys to always seem to want to make the name versus a sound business decision in terms of talent.
More from Dallas Cowboys
Fans for years have been asking to improve the pass rush and secondary. Instead Jones went with low cost, high profile, problem children in many cases. It was a boom or bust type move that Jones is used to in the oil business. However, on a sports team it causes many of the issues we have seen over the last few years.
Sure, business has been good, the team however has been middle of the pack for a long time. It shows us that Jimmy Johnson was even more valuable than many thought. He seems to get more valuable every year. Jones has shown he is more interested in flash instead of substance. He would rather hit a home run on a chance, than manufacture run after run with quality and reliability.
This season the offense has to carry the team. Even if the defense is better than advertised, there are still too many questions about durability and reliability on the defense. It is possible for the Cowboys to win a Super Bowl this season. If they do it will be because the offense is extremely high powered and the defense was good enough.
Next: Dallas Cowboys: Hitchens Can't Replace McClain Alone
All of this doesn't really matter however. Jerry Jones and his son Stephen Jones are running a business. As a business they know how to make money and the Cowboys are still one of the most popular teams in the world in any sport. But with everyone saying, "We told you so" I doubt that Jerry Jones is listening.