Tony Romo: How Tradeable is He Going Forward?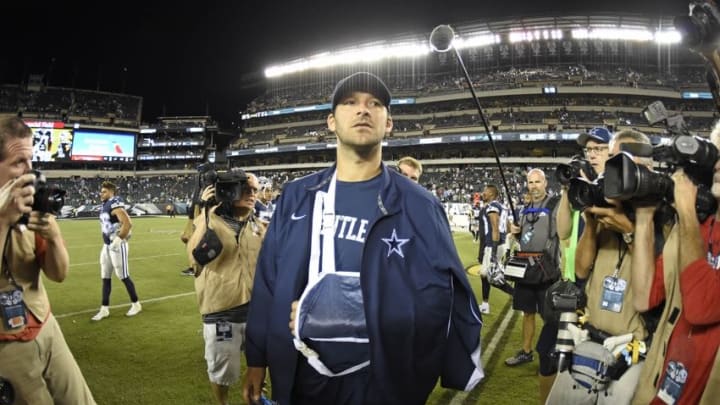 Sep 20, 2015; Philadelphia, PA, USA; Dallas Cowboys quarterback Tony Romo (9) on the field after game against the Philadelphia Eagles during the second half at Lincoln Financial Field. Romo left the game with an injury. The Cowboys defeated the Eagles, 20-10. Mandatory Credit: Eric Hartline-USA TODAY Sports /
As the Dallas Cowboys contemplate the future of the quarterback position in Dallas, they would be wise to consider the movability of Tony Romo.
The Dallas Cowboys quarterback controversy has now reached critical mass. In the absence of starting quarterback Tony Romo, Dak Prescott has set the league on fire, leading the Cowboys to a 5-1 record and breaking NFL records along the way.
It remains to be seen if the Dallas Cowboys will stick with their rookie sensation or defer back to the proven, but oft-injured, Tony Romo. Conversations like that are happening virtually everywhere right now. But something that must be considered in a decision making process is if a player like Tony Romo can even be traded. If he can, when and then what is his likely value?
So, let's put the "who should start" argument aside for a moment. Instead, let's focus on the overall movability of Tony Romo.
I've broken up "movability" into two sub categories:
financial ramifications
trade value
Financial Ramifications
Tony Romo is currently playing on a 6 year/$108 million contract that runs through the 2019 season. Majority of the guaranteed money of this contract is still owed Romo, meaning it would be financially prohibitive to cut or trade Tony Romo this season. According to Sportrac.com, that prohibitive amount would be in excess of $40M (Total Dead Money).
the purpose of this is to look at movability rather than debate who is better.
Digesting such a hit ($40M) would be nearly-impossible for the Cowboys, thus making him unmovable in 2016. As such, any fantasies of trading him before the 2016 deadline for "the missing piece" operate slightly outside of reality.
But things change considerably after the 2016 season…
Moving Romo After 2016
If the Dallas Cowboys cut or traded Romo after the season, they would stand to gain a bit of spending cash. The Cowboys are due to owe him $24,700,000 in 2016. If they trade him they will have to eat $19,600,000 in dead money thus freeing $5.1M in cap space.
While digesting dead money is never a fun thing to do, if the Cowboys honestly felt they were better off at the QB position without Romo, $5.1M looks like free money. But again, the purpose of this is to look at movability rather than debate who is better.
More from Dallas Cowboys
The real saving will be seen in 2018 and 2019. With Tony Romo and his mammoth QB salary off the books, the Dallas Cowboys would have more than enough money on hand to re-sign their core personnel and be major players in free agency.
Dak Prescott will technically be playing on the cheap through the 2019 season. But if he proves to be everything we think he is, the Dallas Cowboys are sure to extend his deal prior to the 2019 season.
This essentially means the Dallas Cowboys will enjoy their riches for the 2018 season but must start facing reality again in 2019 when a QB will likely account for $25M+ per year.
The conclusion one can then draw is that by moving Romo in the offseason, the Cowboys will have plenty of spending cash to retain and upgrade their roster but it doesn't necessarily give them a blank check for multiple years of carefree shopping (like some are suggesting).
Trade Value
The most recent QB appraisal we can reference is the trade that sent Sam Bradford to Minnesota. Bradford, a career tease, isn't half the QB that Tony Romo is, yet he garnered the Eagles a first round pick when they sent him to the desperately desperate Minnesota Vikings.
It's easy to say that since Bradford was worth one 1st round pick, Tony Romo should be worth at least two first round picks. And who's to say Romo couldn't, provided the Cowboys found a team desperate enough. But Romo has some things working against him that we all must understand. Romo is much older than Bradford (roughly six years his elder). And while Bradford is every bit as injury prone as Romo, the recent injury history makes Romo the much riskier option.
A mid-level first round draft pick isn't out of the question, but anything more may require the word "conditional" attached to the draft pick. Let's not over estimate the value of Tony Romo here, otherwise it could lead to some very poor decisions down the road. With that said, I feel pretty confident the Cowboys brass has a firm grip on reality here (By that I mean Will McClay).
The best chance at getting additional compensation for a risky player like Romo is asking for a player in return. It's certainly not out of the question Tony Romo could net a 1st or 2nd round draft pick, plus a high risk/reward player in return.
Next: Can Zeke Elliott Break the Record?
At the end of the day the Dallas Cowboys will need to find out which quarterback is best for the 2016 Dallas Cowboys. As we can see, both are sure bets to remain on the team this season because trading Tony Romo doesn't become a financial possibility until the offseason.
So let the debate on who to start the rest of the way begin…err…continue. Relentlessly.