Dallas Cowboys: Did Dak lose his confidence?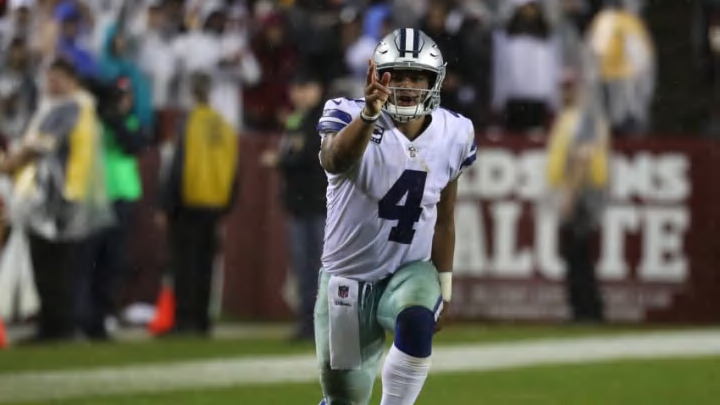 LANDOVER, MD - OCTOBER 29: Quarterback Dak Prescott /
Dak Prescott had a phenomenal rookie season, but did the Cowboys QB lose confidence in his sophomore season?
Dallas Cowboys quarterback Dak Prescott went from having an awesome rookie season to a roller coaster sophomore season. And the reasons for Dak's up and down 2017 season varies depending on who you talk to or believe.
In 2016,  Dak led the Cowboys to an 11-game winning streak, a 13-3 record, a divisional crown, and a first round bye in the playoffs.
Dak finished the season with 3,667 passing yards, 23 touchdowns, four interceptions, completed 67.8 percent of his passes, averaged 229.2 passing yards a game, and had a quarterback rating of 104.9. It was an awesome performance, helping Dak win ROY (Rookie of the Year honors).
To put it bluntly, that was then, this is now.
Nevertheless, Dak struggled to some extent in his second year, and former Philadelphia Eagles quarterback Ron Jaworski says that Dak lost a bit of his confidence in his second season.
In an interview with Newy Scruggs of DFW's NBC 5, Jaworski said,
"at the end of the day, players have to make plays. I think Dak started to lose some confidence. When Dak loses his confidence, like all quarterbacks, you lose a little bit. You're not willing to pull that trigger."
Jaworski went on to say,
""in year two defenses now have studied your year one. They know everything that you do. They've got 30 guys in the corner watching the tape, and they're going to make you play your weakness, and they forced Dak to do some things he was not comfortable doing. So now we're going to see year three how he rebounds from what happened year two.""
We're definitely going to see how Dak rebounds in year three, the year where it determines if he's the Cowboys future franchise quarterback. There are several reasons for why Dak had a roller coaster season. But did he lose his confidence in the process?
I look at the Dak's sophomore season as the glass is half-full instead of half-empty. I don't think Dak lost confidence, but he forced things, rushed his throws, didn't make all of his reads, and his mechanics were all over the place at times.
If you look at Dak's rookie season, he didn't have these alarming issues. What's the difference between Dak's first and second season?
First and foremost, inept coaching, followed by the Cowboys reshuffling of the offensive line (losing Ronald Leary to free agency and Doug Free's retirement), All Pro left tackle Tyron Smith missing games due to injuries, the suspension of Ezekiel Elliott, inconsistent play from Dez Bryant and Terrance Williams, opposing defenses having a year's worth of film on Dak, and Dak's accuracy.
Did I miss anything? (Oh Jerry Jones is still the Cowboys egotistical owner).
More from Dallas Cowboys
All of those aforementioned issues played a part in Dak throwing nine more interceptions and one less touchdown from his rookie campaign (23 td's, 4 ints).
Despite the negativity thrown at Dak, I liked the fact that he played more aggressively this past season compared to his rookie year. And he'll only get better because of the rough season he experienced.
Yeah, Dak had some bad games, made bad decisions, and struggled with his footwork and accuracy. But so did Troy Aikman and Roger Staubach.
Next: Cowboys: Using Dak Prescott as a runner doesn't need to be dangerous
The quarterback position is the toughest and hardest position to master in all of sports. So before the critics write off Dak as a failure, let's see how he rebounds in his third season.
Then we'll know if his confidence is shaken or not.