Dallas Cowboys: Draft strategy is not a secret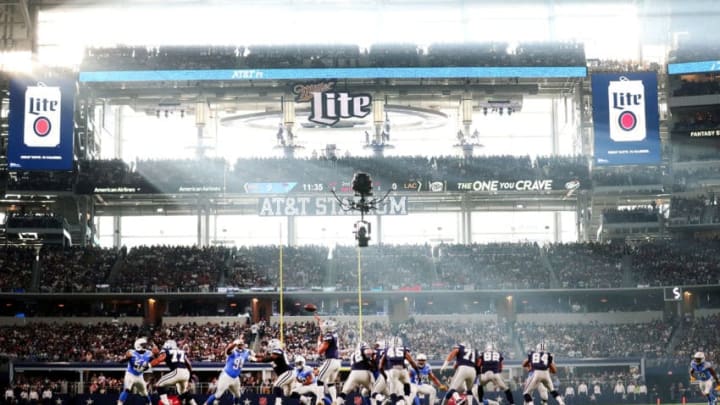 ARLINGTON, TX - NOVEMBER 23: Dak Prescott #4 of the Dallas Cowboys passes the ball to an open receiver against the the Los Angeles Chargers during a Thanksgiving Day game at AT&T Stadium on November 23, 2017 in Arlington, Texas. (Photo by Tom Pennington/Getty Images) /
The Dallas Cowboys say they want to draft "best player available", except they have telegraphed their draft. This is not something teams really want to do…
During this time of the offseason, teams, including the Dallas Cowboys, want to be able to draft "best player available". After cutting Dez Bryant, the Dallas Cowboys have broken one of the main rules of the offseason, not letting teams know what their draft strategy is.
Before last week, the needs of the Dallas Cowboys were pretty well known, but the priority of the needs was still a little up in the air. This gave some flexibility to maneuver in the draft and pick players that would fall to them. It also didn't allow teams above them to pick a player the Cowboys might want, just because the needs were not so stark.
As of Thursday of last week, it was pretty much assumed the Cowboys would go linebacker, safety, and offensive line fairly early in the draft. Wide receiver was an option as was tight end early as well, but they could afford to sit and wait for who dropped. Friday afternoon, everything changed.
After the release of Dez Bryant, it became clear the Cowboys would go wide receiver earlier rather than later, and this more than likely made linebacker an earlier pick as well. Since the Cowboys signed two offensive linemen, teams could assume they will push offensive lineman down the list a little. Tight end is still an option, but they have recently said Rico Gathers is good to go. Oh, and of course now the talk is the Cowboys are once again interested in Seahawks safety Earl Thomas and could trade for him.
I personally wouldn't give up a second for Thomas and I might actually balk at a third as well. Thomas is 29, coming off an injury, and wants to be paid like he is still 25 year old. Yes, he can produce, but can he stay healthy, for how long, and for how much? A second is just too stiff with high needs at linebacker and wide receiver now.
If the Cowboys do in fact get Thomas, even for a third, this will make the first two rounds pretty much known by all of what the Cowboys will do. Not exactly a great strategy when it comes to the NFL draft. This would almost immediately make linebacker and wide receiver the first two round picks.
Teams knowing what the Cowboys want, can now plan a little better if they pick before or even after the Cowboys are on the clock. Knowing the Cowboys want a linebacker and wide receiver, a team may reach a little or try to move ahead of them, to get who they think the Cowboys may pick.
For example, if Calvin Ridley and/or Roquan Smith are there at 15, teams could try to trade up knowing they won't make it past the Cowboys.
This could mean the Cowboys will trade down in the draft if they can not get one of their guys. "Best player available" is nice, but if there are a bunch of corners at the top of the board when the Cowboys pick, odds are they either reach for someone, or trade back. Not exactly a perfect scenario.
However, it is where the Cowboys have both put themselves and have had the unfortunate luck to be. When the Cowboys whiffed on getting a viable number one wide receiver, like Sammy Watkins, and still cut Dez Bryant, they did this to themselves. When they couldn't resign Anthony Hitchens, they were unfortunately in the market for a linebacker. It happens.
The Cowboys stacked their pre-draft visits with wide receivers, so their hand was a little tipped, cutting Bryant, basically showed their entire hand.
The Cowboys could think they are going to be okay at wide receiver, however, this wide receiver corps doesn't look very good. Allen Hurns has been injured every year but one, Terrance Williams is a major disappointment and should have been gone a few years ago, and Cole Beasley's best year still wasn't as good as Bryant last year,
Ryan Switzer has only 42 yards and has proven nothing, Noah Brown is an unproven player, Deonte Thompson is 29 and never caught more than 27 balls (his rookie year), and KD Cannon and Lance Lenoir have yet to catch a pass in the NFL. Not exactly a lot of confidence in that group to be honest.
The linebacking corps is a little deeper with Sean Lee and Jaylon Smith both etched in as the starters, but both have had injury histories, Smith seems to be on the right path, but injuries are a funny thing. After them Damien Wilson, Justin March-Lillard, Joe Thomas, and Tre'von Johnson round out a less than stellar option for the opening starting linebacker and at depth.
More from Dallas Cowboys
The Cowboys could go with guard and tight end, however they did sign two offensive linemen and seem to like Rico Gathers and his health. This pretty much telegraphs the early moves the Cowboys will want to do.
All of this is assuming the Cowboys actually try to get Thomas and do. If they do not, then the first three picks will be a combination of linebacker, wide receiver, and safety. They need starters, and past the fourth round finding a quality starter becomes difficult.
If we didn't know how the Cowboys were going to draft, we pretty much do now.
Next: Cowboys Draft: The best round to find a WR
The Cowboys will still try to get "best player available". They will most likely try to move around in the draft, although while they have ten picks, moving up will still be fairly painful before the fourth round. While Jerry Jones is still the owner, we never know what the Cowboys will do.