Dallas Draft: Are the Cowboys actually targeting McGlinchey and Bryan?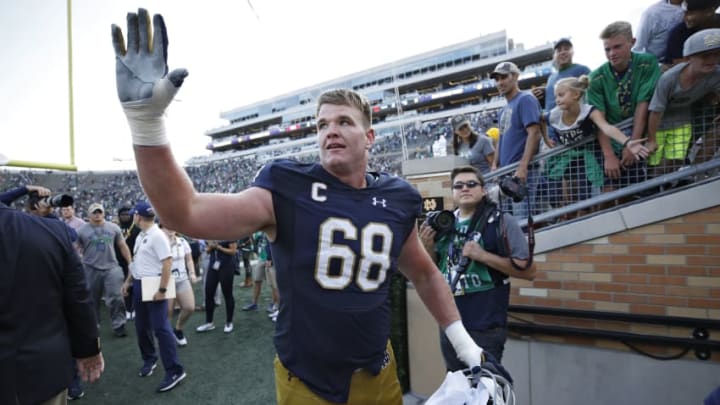 SOUTH BEND, IN - SEPTEMBER 02: Mike McGlinchey #68 of the Notre Dame Fighting Irish celebrates as he leaves the field following a game against the Temple Owls at Notre Dame Stadium on September 2, 2017 in South Bend, Indiana. The Irish won 49-16. (Photo by Joe Robbins/Getty Images) /
Two players, OT Mike McGlinchey and DT Taven Bryan, are flying below the radar these days. Here's why that may be a mistake for Cowboys fans…
Cowboys Nation seems to be all-in on wide receivers and linebackers these days. And why not? The Cowboys are dangerously thin at linebacker now that Anthony Hitchens has departed to greener pastures (as in money, not foliage).  And sans Dez Bryant, the receiving corps now finds themselves wildly pedestrian in the pass-catcher department.
But with all signs pointing in these two directions, we may be overlooking the real objects of the Cowboys' affection. Mike McGlinchey and Taven Bryan are two players the Cowboys have shown extreme interest in during this scouting process. Both players were amongst the official "30-visitors" and both players fill a position of particular need.
We start with the offensive tackle from Notre Dame
Mike McGlinchey
The Dallas Cowboys are one offensive lineman away from utter dominance in 2018. Armed with three All-Pros and a budding star in La'el Collins, Ezekiel Elliott has the potential of being an unstoppable force running the rock.
But as we saw in 2017, one misjudged talent and one key injury can completely derail this unit. And suddenly a strength has the potential to quickly become a weakness if it's not handled correctly.
It seems the Cowboys have pinned a lot of hope on Tyron Smith's health and Marcus Martin's ability this coming season. With only La'el Collins' position flex and the insurance policy known as Cameron Fleming, they may be spreading themselves thin along the O-line.
Additionally, the future of this offensive line is in peril. If Smith's back problems don't improve, he may be in store for a premature retirement. And given the amount of money already tied up on the unit, it's doubtful La'el Collins can be retained beyond the 2019 season.
As I've said all offseason – the Cowboys may be looking for two starting offensive tackles in the very near future. Investing in one now is a move that makes sense today, and could save the franchise tomorrow.
Taven Bryan
Under tackles, aka the 3-technique defensive tackle, is sparse this draft. Known as the playmaker in Rod Marinelli's defense, the under tackle plays a key role in a pass-rush that rarely blitzes. Rod himself, visited Bryan to work him out at his Pro Day. If that's not a legitimate interest, I'm not sure what is.
More from Dallas Cowboys
What we don't know is what Rod thought at the end of this fact-finding mission. Is the highly athletic, but suspiciously unproductive, DT out of Florida still on their radar?
Based on the depth available in this draft and the current status of the Cowboys roster, one would think, yes.
David Irving, Dallas' current under tackle, is quite possibly the most underrated DT in the NFL. With 10 sacks in the last 12 games, Irving is on pace to deliver a 13 sack season if he can stay healthy. That would be more than what Aaron Donald accrued last year and it would make Irving the most prolific inside pass-rusher in the NFL.
But his future with Dallas is in major doubt. Playing on a one-year tender, Irving has the potential to explode on the national scene this season.
If he can continue his statistical pace, he stands to make more money on the free agent market than Dallas can afford (Dallas will probably be committed to keeping DeMarcus Lawrence instead).
Mix in David Irving's recent domestic issues, and you have a guy that's likely to be playing elsewhere in 2019. That's why the Cowboys may opt to draft a high-ceiling "project" this year.
With Irving and Maliek Collins holding down the fort, Bryan wouldn't need to produce in 2018. But after a year of seasoning, the stage would be set for 2019. You or I may not like him in the first round but that doesn't mean the Cowboys don't love him.
Next: Was Dez Bryant's late release a smokescreen from the Cowboys?
The Cowboys have big needs at linebacker and receiver this year, so expecting them to target those positions early in the draft is probably a smart line of thinking. But don't sleep on OT or DT because those positions stand to provide tremendous value if things fall right.