Texas Rangers pick a nice time to become an entertaining bunch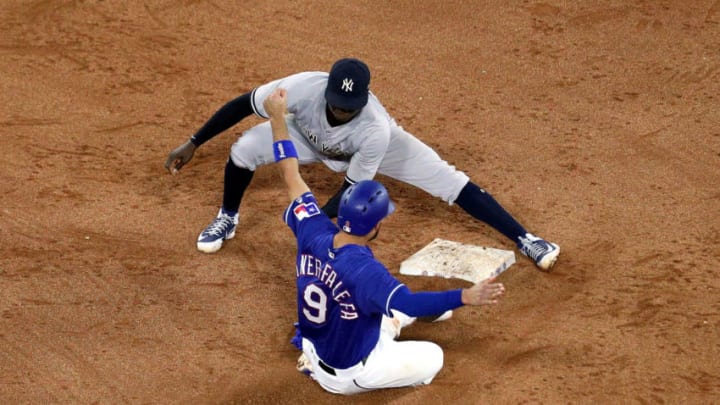 ARLINGTON, TX - MAY 23: Isiah Kiner-Falefa #9 of the Texas Rangers steals second base as Didi Gregorius #18 of the New York Yankees is late on the tag in the eighth inning of a baseball game at Globe Life Park in Arlington on May 23, 2018 in Arlington, Texas. (Photo by Richard Rodriguez/Getty Images) /
I'm not saying it's going to last, but the Texas Rangers just put together a fun stretch and need a little credit in an otherwise stagnant campaign.
Look, this is mostly about the Texas Rangers getting over on the Yankees early last week. Sure, they split a series against a horrible Royals' team over the weekend, but who cares? If you follow baseball at all, you're sure to to have several Yankee fans in your circle. They're the most obnoxious of the bunch, too. As a rule, they like to co-opt their fandom into somehow having assisted in every championship over the years. They're great. Just ask them. Frankly, it's highly irritating.
So it felt good when the Rangers somehow managed to take two of three last week. Moreover, it was supremely refreshing to let the collective silence wash over you on social media. The best Yankee fan is the quiet and humbled Yankee fan. It hearkens back to the most wondrous moment in the admittedly sparse history of Rangers' baseball.
But before I get lost in my own feelings about all of this, I must give some plaudits to the team. To say this squad is in the middle of a disappointing grind is an understatement. We're one-third of the way through this mess, and this team truly resembles some of the horrible 80's groups I grew up watching. So this recent streak of respectable baseball represents a tiny oasis in the early-onset summer of 2018.
Specifically, the play of Isiah Kiner-Falefa and Ronald Guzman have been revelations. We are truly seeing two farmhands take their opportunity and run with it. And it has seeped into the rest of the team as well. In the absence of overall excellence, at least we have boyish exuberance. That counts for something. It surely makes it easier to watch on a day-to-day basis.
More from Sports Dallas Fort-Worth
Take last Wednesday's game against the Yankees into account. What made that night notable from a personal standpoint is that I passed out on the couch in the second inning when the Rangers were already down 3-0. Hey, it was a long one at the day job. By the time I woke up, it was 11-10 Texas! By that point, Kiner-Falefa was 1-for-3 with a bases-loaded walk, a triple for an RBI, and a stolen base. He also added an insurance RBI late in the game that provided the final margin of victory and a series win. I don't know if he'll ever become a cornerstone on a major league juggernaut, but you need those catalyst types in your lineup. To that end, the kid's been undeniable.
Granted, I'm grasping at silver linings like a late May series win against the Yankees. But I imagine it's like being a University of Texas football fan in a down year.
The season may be dismal, but if you get over against Oklahoma, then it makes the end result much more bearable. I think I can speak for a lot of Rangers' fans when I say making the Yankees eat crow has the same effect.
Next: Dallas Cowboys: Game-by-Game Schedule Prediction
The unfortunate aspect of this is that we're already in the dog days of the DFW sports scene, and it's not even June. There really isn't much of a diversion until the advent of NFL training camp in approximately two months. So while the baseball isn't very noteworthy–and at times it's downright bad–it's not a bad idea to tune in and watch the kids play. You just might find yourself more entertained than you thought.