Dallas Cowboys: The Defense Must Take Another Step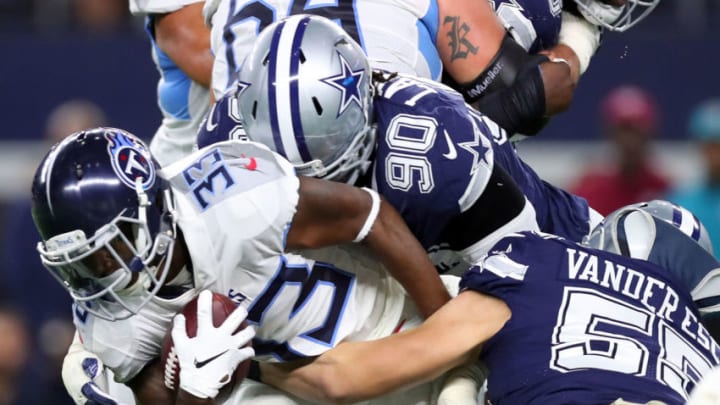 ARLINGTON, TX - NOVEMBER 05: Dion Lewis #33 of the Tennessee Titans gets tackled by Demarcus Lawrence #90 of the Dallas Cowboys and Leighton Vander Esch #55 of the Dallas Cowboys in the first half of a football game at AT&T Stadium on November 5, 2018 in Arlington, Texas. (Photo by Tom Pennington/Getty Images) /
With all the talk about the offense this offseason, the defense must also take another step for the success of the Dallas Cowboys.
So far this offseason there has been a lot of talk surrounding the Dallas Cowboys' offense. The topics have been about Kellen Moore, Dak Prescott, Ezekiel Elliott, the tight end position, so on and so on. The only real talk this offseason about the defense was whether the Cowboys would get Earl Thomas and would they extend Demarcus Lawrence.
Once the Cowboys missed on Thomas and resigned Lawrence, the thought was the Cowboys would draft a safety. Once that passed, only a short amount of coverage on the defensive tackle drafted was talked about, then it was back to the offense. A small blip of Sean Lee playing weakside linebacker, and then the conversation went to offense again.
What the Cowboys need to do is make sure the defense takes another step. After the Rams game where the Cowboys were gashed up the middle, many would think the Cowboys would do more to sure up their defensive weaknesses. Right now, there was minimal effort from the outside looking in. This doesn't mean they can't or won't take the next step, but they need to.
It is no secret Rod Marinelli doesn't like traditional 1-technique defensive tackles. The Cowboys don't really have that type of player on the defense, but they do have some guys who have some agility and speed. It isn't the typical run clogging guy, but it is a group that can get around blockers. The issue is they need to do it more consistently.
More from Dallas Cowboys
On the back end of the defense, Jeff Heath has been a liability more than he has been a reliable player. He takes poor angles and isn't very good in man coverage. The feeling is the Cowboys will roll out Xavier Woods and Kavon Frasier this season. If both can be better than what the Cowboys had last season, then the team will be fine in the secondary.
If, and we don't know it will happen, the defensive tackle and safety positions can be better than last year, then the only real issue is finding a pass rush consistently outside of Demarcus Lawrence. The Cowboys are hoping that they can find consistency, and include pass rushing from the defensive tackle position.
For all of the talk of the offense having to be better, which it does. The defense has to be better when the offense can't carry the team. They did far better than many thought last season, but to get past a team like the Rams or the Saints, they must improve up the middle and get the quarterback more consistently.
Published on 05/15/2019 at 11:00 AM
Last updated at 05/15/2019 at 10:24 AM