Dallas Cowboys: It's time to bring Dez Bryant back to BIG D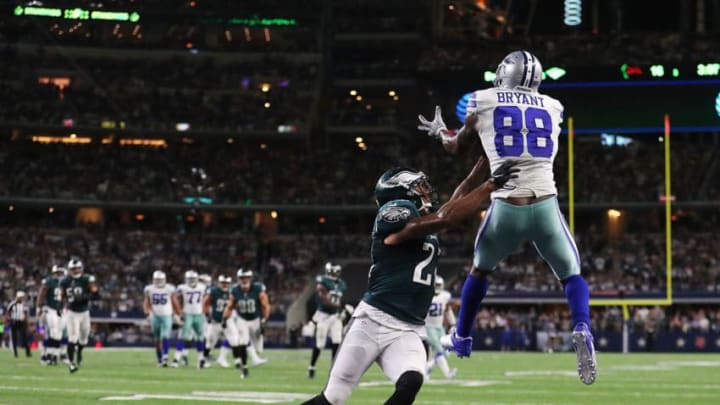 ARLINGTON, TX - OCTOBER 30: Dez Bryant #88 of the Dallas Cowboys (Photo by Tom Pennington/Getty Images) /
Dez Bryant has been humbled and the Dallas Cowboys need to improve their red zone offense making it a great time to bring Dez back to Big D
On April 13th, 2018, the Dallas Cowboys did the unthinkable and cut fan-favorite, Dez Bryant. Not only did they cut bait with one of Dallas' most productive receivers of all time, but they did so without a replacement in place.
Over one year removed from that fateful day, Cowboys Nation is still split over the Dez situation. Today, fans are largely made up of three groups regarding Dez: 1) Good Riddance 2) Big Mistake 3) Shouldn't have done it but what's done is done. But I'm here to champion a fourth group…
The group I'm here to push is one that says, it felt like it was a mistake, but was probably necessary for the culture, and now it's time to consider bringing Dez back to the Dallas Cowboys.
Crazy? Maybe. But hear me out on this one because it may be one of those low-risk/high-reward moves the Dallas Cowboys love.
This isn't the same 'ol Dez
2018 humbled Dez Bryant. He may never care to admit it but it's an inevitable repercussion given how far he fell in status. He went from being considered a top-10 WR in the NFL to completely undesirable almost overnight.
Now much of that has to do with the timing of his release (I'll always consider cutting him so late in the offseason a classless move from my favorite team), but around the league it seemed teams decided his antics were not even worth the smallest of investment. Eventually New Orleans stepped up and signed him, but an injury prevented that from ever manifesting on the field.
Here we sit. Late in the NFL offseason when most rosters are set and teams are ready to roll into training camp, and Dez is still unemployed.
Some may point to his twitter activity as an indication he's still a problem and he's still bitter with the Dallas Cowboys. Frankly, I don't see it that way. Besides, recent remarks about the Dallas Cowboys passing game haven't been wrong, have they?
How can Dez Bryant help the Dallas Cowboys?
At the very least, Dez Bryant can be the red zone presence this Dallas Cowboys offense so desperately missed in 2018. Dallas' red zone struggles are well documented. They were one of the most ineffective team inside the 10, and much of that had to do with the loss of Dez.
It's also important to point out the Dallas Cowboys don't need him to be a top-3 WR for them this season. They have Amari Cooper at the X, Michael Gallup at Z, and Randall Cobb inside in the slot. Dez can't displace any of them, at this point.
But in addition to the red zone work, he can offer valuable depth. If the money was the same (and it probably could be), would you rather keep Allen Hurns as the No. 4 WR or bring back Dez?
Hurns is one heck of a guy and the locker room adores him. But can he do what Dez does in those short yardage situations? He's coming off a significant injury as well, let's face it, they're both unknowns this season.
From a team building perspective, it's probably wise to keep both Hurns and Dez off the roster and investing in youth. Cedrick Wilson is one guy many of us would like to see get his shot on the active roster. And heck, there are a handful of other intriguing prospects on this deep roster that may have a bright future on this team, if only they got a chance. Keeping an old guy at the WR4 is going to cost one of them an opportunity.
But the window is open THIS season and Dallas can't afford to make moves for tomorrow at the detriment of today. If Dez really does have enough in the tank to even be 75% of the red zone threat he was in 2017, he's worth adding to the team.
Is Dez Bryant worth adding to the Dallas Cowboys in 2019? If the attitude is right (which I think it is), the cost is right (and I think it will be), and the ability hasn't declined too much (and I think his short yardage ability is still intact), then a 1-year reunion may not be such a terrible idea.
Long-shot, sure. But an intriguing idea nonetheless.
Published on 06/21/2019 at 12:00 PM
Last updated at 06/21/2019 at 06:37 AM