Dallas Cowboys Safeties: Start, Bench, and Cut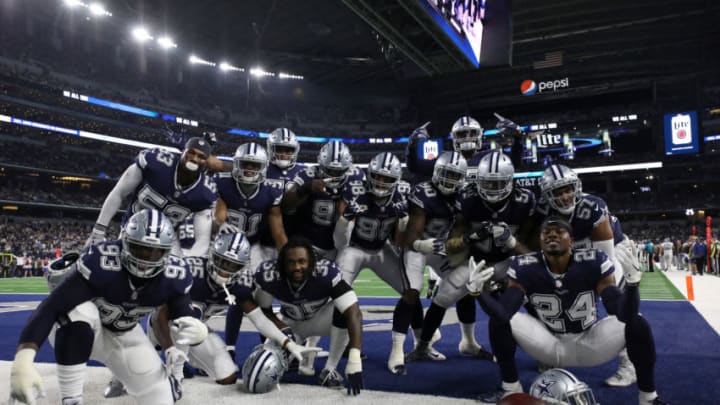 ARLINGTON, TEXAS - NOVEMBER 05: The Dallas Cowboys defense poses for a photo in the endzone during play against the Tennessee Titans at AT&T Stadium on November 05, 2018 in Arlington, Texas. (Photo by Ronald Martinez/Getty Images) /
ARLINGTON, TEXAS – NOVEMBER 05: The Dallas Cowboys defense poses for a photo in the endzone during play against the Tennessee Titans at AT&T Stadium on November 05, 2018 in Arlington, Texas. (Photo by Ronald Martinez/Getty Images) /
During the offseason, the Dallas Cowboys planned on addressing the safety position. They did so in the form of two moves: signing George Iloka and drafting Donovan Wilson. With limited room and little variance in talent for safety on the depth chart, which safeties are we going to start, bench, and cut today?
The Dallas Cowboys have had a great offseason. They've filled their holes with valuable rotation players and drafted with hopes their players can grow into their roles. Even with all this, the Cowboys haven't done anything flashy at the safety position. They've signed former Boise State Bronco George Iloka for pennies on the dollar and drafted Donovan Wilson in the 6th round.
This would suggest they expect former 6th round pick Xavier Woods to take a big leap coming into his third season. This has been the narrative around the Star and even Gil Brandt believes the same thing.
So who will be lining up next to Woods. Last year it was Jeff Heath. We like to call him the GOAT, but not necessarily for his play. Last year he had the second most missed tackles amongst safeties according to Pro Football Focus. In general, Heath wasn't much of a difference maker and wasn't super productive. (A safety not super productive might actually be a good thing but 19 missed tackles disproves that theory)
Heath played in the box and in coverage so it's hard to pinpoint why he missed so many tackles, but nonetheless, the number is not very encouraging.
So now the Dallas Cowboys added George Iloka. Iloka played free safety for a good majority of his Cincinnati Bengals career. As the years have progressed, his role has changed. Even though he doesn't move as well as he used to, his size allows him to cover tight ends and play in the box.
Then there's Donovan Wilson. Wilson had a productive career but did suffer from a fair share of injuries. He was widely regarded as A&M's best defender his final season. (Not sure how much weight this carries given the A&M secondary was not that good) Wilson can lay the boom and he's fast enough to play free safety.
Wilson has the versatility the Cowboys want from their safeties, but he is a bit raw and could benefit from time on the bench in order to control his over aggressive play style that occasionally got him ejected.
So yeah… If you hadn't figured it out, today in this version of Start, Bench, and Cut I'm going to be discussing Jeff Heath, George Iloka, and Donovan Wilson.