Dallas Cowboys Safeties: Start, Bench, and Cut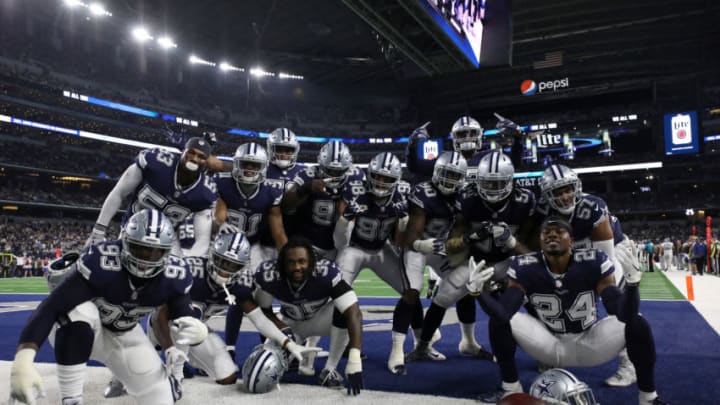 ARLINGTON, TEXAS - NOVEMBER 05: The Dallas Cowboys defense poses for a photo in the endzone during play against the Tennessee Titans at AT&T Stadium on November 05, 2018 in Arlington, Texas. (Photo by Ronald Martinez/Getty Images) /
MINNEAPOLIS, MN – OCTOBER 14: George Iloka #23 of the Minnesota Vikings celebrates after making a tackle in the third quarter of the game against the Arizona Cardinals at U.S. Bank Stadium on October 14, 2018 in Minneapolis, Minnesota. (Photo by Adam Bettcher/Getty Images) /
George Iloka
Opening Argument:
The former Boise State Bronco was drafted in the fifth round of the 2012 draft by the Cincinnati Bengals. Iloka didn't do much in his rookie season, but that changed drastically in his second season. After 2012, Iloka started every game he played from 2013-2017 playing primarily free safety. He was then released in August of 2018.
He then joined the Minnesota Vikings reuniting with head coach Mike Zimmer. Iloka didn't do much for the Vikings playing a backup role to Harrison Smith and Jayron Kearse. After one season with the Vikes, Iloka ended up back in Texas with the Cowboys.
Strengths:
Iloka is 6'4″ and 225 pounds with freakish 34 1/2″ arms. Iloka has the length and height to lineup all over the place. As it stands, he has the ability to line up as a linebacker. If he gained some more weight, he'd be big enough to play defensive end. The expectation is Iloka will play as a box safety so hopefully his linebacker-like size can be useful at the line of scrimmage.
As mentioned above, he has the ability to lineup all over the field. However, as a safety he has played free and strong safety. The Cowboys should have some fun disguising coverages with Iloka's presence.
Iloka doesn't lay the boom but he's a very sure tackler. He generally hits the right tackling angles and when the runner is in his grasp he won't let go. For a team that suffered from many missed tackles from the safety position, this is good news.
Iloka didn't play too much last season only logging 118 snaps for the Vikings. He did receive some reps on special teams. The Cowboys do like to have their safeties on kickoff duty. Perhaps this may lead to something down the road?…
Iloka has played in the league for 7 years. Out of this batch of safeties, he has the most NFL experience. Heath is short by one year.
Iloka is currently on a 1 yr/ $1.02M contract. This is good for the team and him, but each for different reasons. If the team wants to cut Iloka, they don't face a significant cap hit or dead money. If Iloka stays on the team and outperforms his contract, he can get a significant raise as early as next year.
The Rebuttal:
Weaknesses:
Iloka ran a 4.66 second 40 yard dash at his combine making him pretty slow for a safety that covers a lot of ground. Now that he's been in the league for some time, he will be even slower. This is also evident in film where he has a challenging time catching someone from behind.
In the rare chance he's asked to play man coverage, he's really slow changing directions and getting in and out of breaks. Then again, he's 6'4″, 225 lbs.
Conclusion:
Iloka has started for an NFL team before. He was pretty effective. If he were to start for an NFL team now, he would have to pick up a different role. The Dallas Cowboys employ all types of personnel and looks with their coverage. The more creative the Cowboys can get, the more Iloka has the chance of succeeding.
That said, I think Iloka has a chance to start for the Cowboys, however, I don't expect him to start immediately. The Cowboys love to play their returning members before fresh faces. If Iloka has an amazing camp, perhaps things can change.