Dallas Cowboys Safeties: Start, Bench, and Cut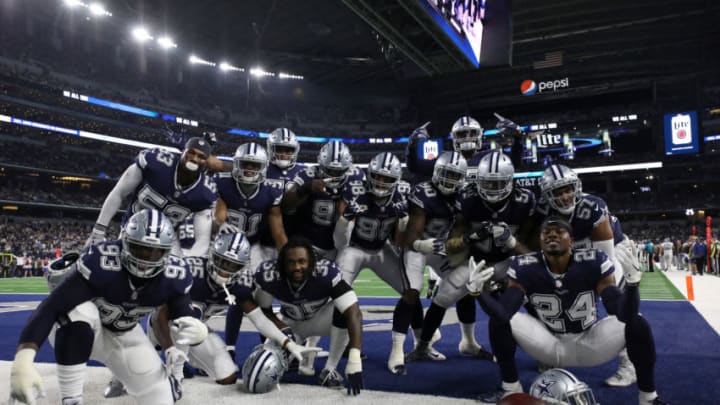 ARLINGTON, TEXAS - NOVEMBER 05: The Dallas Cowboys defense poses for a photo in the endzone during play against the Tennessee Titans at AT&T Stadium on November 05, 2018 in Arlington, Texas. (Photo by Ronald Martinez/Getty Images) /
LOS ANGELES, CA – JANUARY 12: Jeff Heath #38 of the Dallas Cowboys tackles Robert Woods #17 of the Los Angeles Rams in the fourth quarter in the NFC Divisional Playoff game at Los Angeles Memorial Coliseum on January 12, 2019 in Los Angeles, California. (Photo by Sean M. Haffey/Getty Images) /
Jeff Heath
The Opening Argument:
As an undrafted free agent from Saginaw Valley State in the Great Lakes Intercollegiate Athletic Conference, Heath's odds to make a final 53 man roster in his rookie season were not in his favor. After demonstrating his excellence on the field for 5 preseason games, the Cardinal found himself having a prominent role with the team.
The Dallas Cowboys could not have anticipated needing Heath's services as much they did, but Heath has been reliable for the defense. In his rookie season, he played all 16 games while starting 9 of them. From 2014-2016, Heath played every game except two. In 2017, he was given the opportunity to start and he's done so the last two seasons. Successfully? That's still up in the air.
Strengths:
Heath ran a 4.48 second 40 yard dash at his Pro Day, but his film would suggest he's faster. His ability to cover ground is impressive. (If you want to throw in a stereotype you can, I'm abstaining from doing so)
Heath's teammates love him and he regularly shows up in pictures with them. This team is very close with one another and Heath could be a big reason why. He's young enough to relate with everyone and has had a unique journey to become the starting safety. He's the story of perseverance and hard work coaches love and teammates idolize.
Jeff Heath is the third longest tenured defender on the Cowboys. Sean Lee and Tyrone Crawford are the only defenders who have been on the Cowboys longer than Jeff Heath. Crazy!
Heath has been in the league for 6 seasons and he's played in at least 14 games in each season. In his early years, he stepped in for injury or in special teams. Heath just doesn't get hurt.
Much like Iloka, Heath has spent a lot of time playing on the special teams unit. Considering he was selected to the 53 for his special teams contributions in 2013, this should not come as a surprise. Heath has become a leader for that unit.
Do I need to elaborate?
The Rebuttal:
Weaknesses:
This is not the first time I've mentioned this today. Heath was second in the league in missed tackles at his position. Heath suffers from a mix of bad angles and poor technique. He's fairly long for a defender and has the grasp to bring down anyone, however, bad angles and poor tackling technique will negate the impact of a good grasp.
With new systems, some players take longer to develop than others. Byron Jones became a shutdown corner in a few months with Richard. Anthony Brown found a role as a nickel cornerback. Unfortunately for Heath, the first season was inconsistent. He made plays that were encouraging, and then he would misread a zone read and let Jared Goff scamper for 7 yards.
Conclusion:
Heath has been apart of this team for several seasons and should get better under another year of Kris Richard. He has the personality traits teams love from their veterans but his instincts need to develop more. Heath has been a serviceable starter the last two years and should, at the very least, be a serviceable role player in this stacked defensive roster.