Dallas Cowboys Safeties: Start, Bench, and Cut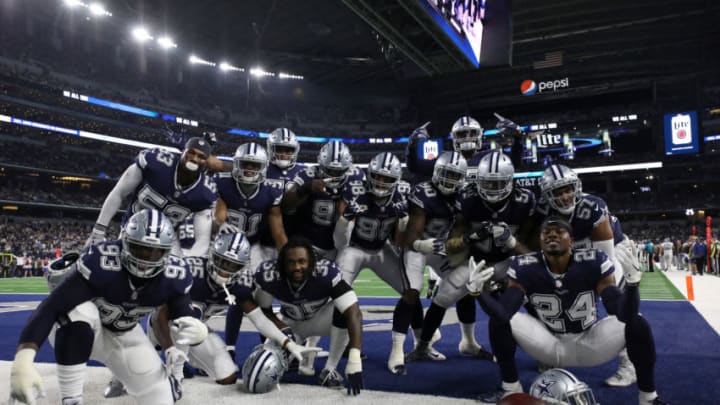 ARLINGTON, TEXAS - NOVEMBER 05: The Dallas Cowboys defense poses for a photo in the endzone during play against the Tennessee Titans at AT&T Stadium on November 05, 2018 in Arlington, Texas. (Photo by Ronald Martinez/Getty Images) /
ARLINGTON, TX – SEPTEMBER 29: Donovan Wilson #6 of the Texas A&M Aggies makes a pass interception intended for De'Vion Warren #9 of the Arkansas Razorbacks during Southwest Classic at AT&T Stadium on September 29, 2018 in Arlington, Texas. (Photo by Ronald Martinez/Getty Images) /
Donovan Wilson
Opening Argument
Wilson was in College Station for 5 years and was a defensive captain for the team in 2017 and 2018. (He received a medical redshirt in 2017 after injuring himself in the first game of the season) In that span, Wilson put up:
199 Tackles, 21.5 Tackles for Loss, 5.0 Sacks, 8 Interceptions
To say Wilson was productive in college is an understatement. On a team that barely finished inside the Top 100 pass defenses in the country, his production stands alone.
As a player a player, Wilson reminds me a lot of Johnathan Abram. Abram and Wilson are very aggressive safeties and can lay the boom. However, their aggression and bad tackling angles can make them hard to watch.
That said, Wilson has better ball skills. In A&M's 4-2-5 defense, he played everywhere. He could be a deep safety or the box safety that needs to lay the boom. He has the athleticism to be a versatile safety in the NFL.
Strengths:
Wilson isn't as fast as Heath, but he moves well enough in and out of breaks. If isolated as the only deep safety, he can move across the field. If he needs to play closer to the line, he's big enough to tackle bigger guys like tight ends and running backs.
Wilson was a captain the last two seasons. If he's going to set himself apart, he will need to do so with his leadership. The Dallas Cowboys have more talent this year than in the past, so if he can form a good rapport with the coaching staff, things will look bright for him.
I mentioned above Wilson moved around everywhere on the field and made plays. Richard and Marinelli would like to have as many safeties of that caliber for their Cover 1/Cover 3 looks. If Woods gets tired, they could slide in Iloka, but now they also have Wilson.
The Rebuttal
Weaknesses:
Wilson will need to fix his technique. What do I mean exactly? Wilson loves to lay the boom, but he misses easy tackles and gets ejected in the process. There are times when a hard tackle is appropriate, but sometimes preventing a receiver from scampering for a touchdown is more important than trying to make him fumble.
Wilson is athletic enough to make plays in the open field, but that doesn't mean anything if you can't attack the ball carrier or receiver at the right angle. The film consists of moments like these and it just leaves you frustrated knowing how fixable these issues are.
More from Dallas Cowboys
The experience issue with Wilson is two-fold. Wilson is a rookie meaning he has the least experience of anyone on this list. Also, he was in college for 5 years and he's already 24. He's only 4 years younger than Heath and he has a long way to go in his development.
In 5 years of college, Wilson has molded his game in a specific way. Amending one's style of play is a tall order no matter one's subordination. Wilson will need to develop and could develop nicely in a couple of years, but it seems the Cowboys are in a win-now mode. How much does this impact his roster spot?
Conclusion
Wilson will require the most work to fix out of the three, but he is the one with the highest ceiling. One year with a defensive back's coach that understands how to use a prospect's athleticism should go a long way in the development of Wilson. The question remains, how long will the Cowboys have to wait for Wilson?