Dallas Cowboys Safeties: Start, Bench, and Cut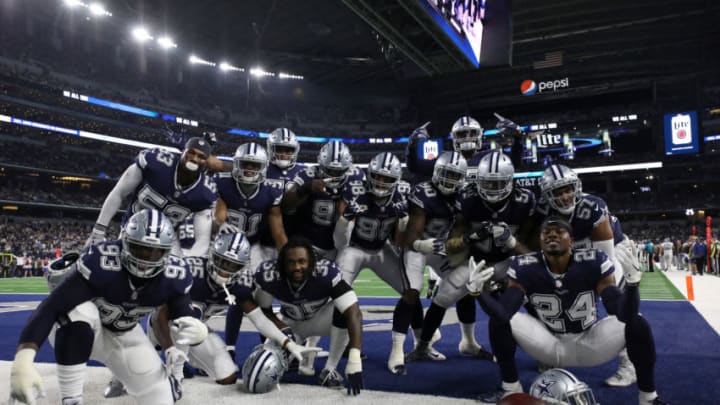 ARLINGTON, TEXAS - NOVEMBER 05: The Dallas Cowboys defense poses for a photo in the endzone during play against the Tennessee Titans at AT&T Stadium on November 05, 2018 in Arlington, Texas. (Photo by Ronald Martinez/Getty Images) /
LOS ANGELES, CA – JANUARY 12: Head coach Jason Garrett of the Dallas Cowboys reacts in the third quarter against the Los Angeles Rams in the NFC Divisional Playoff game at Los Angeles Memorial Coliseum on January 12, 2019 in Los Angeles, California. (Photo by Harry How/Getty Images) /
The Final Ruling
Alas the time is here. In this week's game, who are we cutting, benching, and starting?
Starting: George Iloka
Benching: Jeff Heath
Cutting: Donovan Wilson
There's nothing surprising about this list. In fact, I expect most everyone reading this to come to this same conclusion. The only other possible pattern that I could argue is starting Heath, benching Wilson, and cutting Iloka, but that wouldn't make sense from a talent perspective.
I love what Iloka can provide for the team knowing he played a role last year that I expect him to play this season. In addition, Iloka's instincts and solid tackling make him hard to pass up even if Jeff Heath improves in both departments like I expect him to this year. (Knowing the struggles Heath had last season, it's good not having to deal with a hypothetical)
I can't fathom cutting Heath. Even though Jason Garrett uses the phrase "he's the right type of guy" quite liberally, I imagine the whole coaching staff and front office feel that way about Heath. Heath has been able to step in for relief duty and has been a consistent contributor on special teams. Nothing about that resume would suggest he's release-worthy.
So that leaves Donovan… I don't BY ANY MEANS expect the Dallas Cowboys to release Wilson, but he is the sacrificial lamb of today's article. In comparison to the other guys, he needs to refine his play and he has less experience playing special teams than these two. While he can lay the boom, so can Iloka. (Iloka also doesn't miss tackles very often)
Even if his ceiling might be the highest of the three, it's hard to pick an extremely raw product over two guys you know are going to contribute immediately. With that, we conclude this week's game of Start, Bench, and Cut.