Dallas Cowboys: How two unused '18 picks could be key players in '19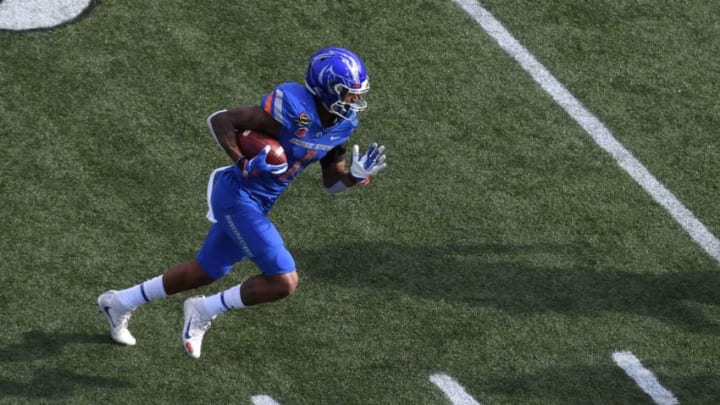 LAS VEGAS, NV - DECEMBER 16: Wide receiver Cedrick Wilson #1 of the Boise State Broncos runs for a 10-yard gain against the Oregon Ducks in the first half of the Las Vegas Bowl at Sam Boyd Stadium on December 16, 2017 in Las Vegas, Nevada. Boise State won 38-28. (Photo by Ethan Miller/Getty Images) /
The last two players the Dallas Cowboys selected in the 2018 NFL Draft (that are still on the roster), linebacker Chris Covington and receiver Cedrick Wilson, may very well be key parts in 2019.
The efficiency of the Dallas Cowboys' drafts the past few years are reaching ridiculous status. Obviously there's Dallas franchise QB, Dak Prescott, found deep in the fourth round. But there's also Maliek Collins (3rd round), Anthony Brown (6th round), Dalton Schultz (4th round), Michael Gallup (3rd round), and Xavier Woods (6th), all mid-to-late-round picks, that have become starters for the Dallas Cowboys.
Two more players, LB Chris Covington and WR Cedrick Wilson, look to join that overachieving bunch in 2019, and judging by the current climate, they have a pretty good shot. Here's how…
LB Chris Covington
Chris Covington, a converted quarterback out of Indiana, joined the Cowboys as a 6th round pick (193 overall). The newly minted linebacker showed intelligence, savvy, and grit as a college player.
Even with Sean Lee slotted to replace Damien Wilson on the strong side, the starting SAM spot appears to be taken. But Lee has never played SAM before, and may be part of a bigger rotation at SAM and WILL when all is said and done.
If Covington can get on the field (started camp on Active/ NFI list) and prove he's suited to play the abusive SAM position, he could push Lee aside and carve out a long-term role on this team.  With 85 tackles, 12 tackles for loss, and 3 sacks over the last 12 games of his college career, Covington may be the perfect fit.
Covington isn't fast or explosive enough to play the MIKE or WILL positions in the NFL but he projects nicely for the SAM. He stands 6'2" 230lbs and put up the 225 bench press 23 times at the combine. As a former QB he understands zone responsibility and is smart and big enough to cover tight ends in man. His play behind the line of scrimmage just adds to the argument he's a challenger to claim that last linebacker starting spot in 2019.
More from Dallas Cowboys
WR Cedrick Wilson
Flying under many people's radar is second year receiver, Cedrick Wilson. It's understandable why, too. The 2018 sixth round pick was injured early in camp last year, never really giving fans and media a look at what he has to offer.
But after a year on IR, Wilson is back with a vengeance. Reports have stated the 6'2" big play machine from Boise State has bulked up considerably in the offseason. He's more familiar with the offense and ready to make an instant impact here in camp.
Last season, Ced made an early impression on the coaching staff:
""Ced has picked up the offense probably better than most of the guys in the room," receivers coach Lal said last year. "And now it's become like, 'Ok, we need a guy to run in there – Ced, go in there' And he knows what to do.""
How good is Cedrick?
Armed with 4.55 speed, he collected 694 yards on deep balls over 20 yards. According to Pro Football Focus, that was second most among FBS receivers. When targeted, Wilson gave his QB a 118 passer rating. I think Dak Prescott will happily take that.
The loss of Allen Hurns paves the way for Wilson to claim a roster spot in 2019. He's seen primarily as a slot or Z option on the offense, but the added bulk may facilitate snaps at X as well. As a well-studied and versatile player, he's instantly a coach-favorite. But it's going to take more than that to claim a roster spot in this crowded WR room. Think he can do it? I do.
So there we are: two players we didn't see much from in 2018 that could be key players this season. Cedrick Wilson and Chris Covington are players to watch at #CowboysCamp
Published on 08/04/2019 at 12:01 PM
Last updated at 07/30/2019 at 14:33 PM