Dallas Cowboys Preseason: One major concern to watch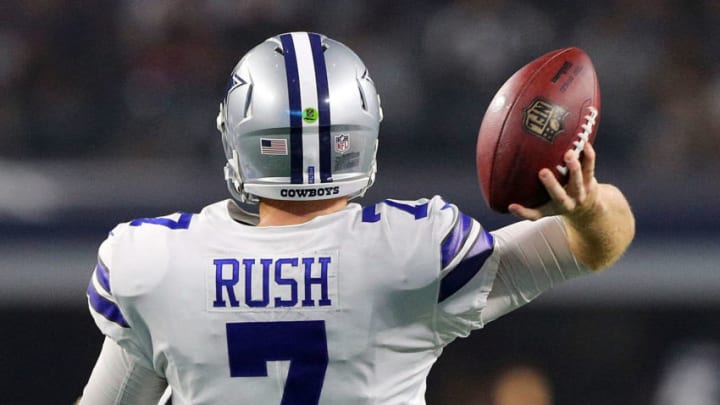 ARLINGTON, TX - AUGUST 26: Cooper Rush #7 of the Dallas Cowboys goes to pass in the second quarter against the Arizona Cardinals at AT&T Stadium on August 26, 2018 in Arlington, Texas. (Photo by Richard Rodriguez/Getty Images) /
Backup quarterback continues to be a worry for the Dallas Cowboys and if the lower ranks don't impress, the team may need to search for outside solutions.
Now, it's not as if there's only one concern to monitor in coming days. There's actually about a dozen certifiable concerns revolving around the Dallas Cowboys training camp. But one issue in particular bears watching, because if it doesn't work itself out in the next week or so, the Cowboys will need to make some changes.
The reason the Dallas Cowboys can't afford to be patient at quarterback is simple: Backup quarterbacks need training camp for development and education within the system. While Dallas could plug and play a nose tackle or kicker fresh off the street, they can't plug and play a QB. Signal-callers need time to learn the offense and training camp provides the best opportunity to do so.
If the current backups, Mike White and Cooper Rush, don't take the next step in their development, outside solutions should be considered. Generally speaking, anyone unsigned now probably doesn't have much hope at ever carving out an NFL career – even in reserve role.
But just like the Dallas Cowboys, every NFL team is constantly running through their roster and speculating their Final 53. They know who has a shot at making it and who's destined to be cut. They'll be happy to field trade offers now, if the Cowboys can offer something marginally attractive in return.
If the Dallas Cowboys play the waiting game and wait for cuts at the end of the preseason, they'll probably need to shift their focus from developmental backup, to veteran backup (assuming White and Rush don't prove capable, of course).
The idea of a veteran QB2 may sound nice to some, but Dallas' track record of failure with veteran QBs is too significant to be ignored. While some teams change their offense to fit a veteran backup's skillset, Jason Garrett's Cowboys never seem to make that all-important adjustment.
More from Dallas Cowboys
Patience
As we stand now, it's not worth doing anything too brash. Mike White is extremely talented if he'd just loosen up a little. And Cooper Rush has flashed an "it" factor once before, it would be a shame to give up on him.
But these first two preseason games will be big for them. Dallas finally appears to have depth on the O-line so they should be able to give the passer time in the pocket. Additionally, Dallas has an extremely deep WR corps that shouldn't have a problem getting open. If either of these two can deliever the ball beyond the sticks (something both have been apprehensive to do), the offense should thrive. But if they struggle with progressions, are late to throw, or lost in their reads, Dallas can't afford to play the waiting game.
As mentioned in the article above, there's an attractive prospect who has familiarity with the team. He's a guy named Philip Nelson who Jon Kitna once referred to as "like Tony Romo". We can be patient with a lot of concerns right now, but we can't afford patience if White or Rush don't establish themselves as possible QB2s.
Published on 08/10/2019 at 12:45 PM
Last updated at 08/10/2019 at 12:45 PM