Dallas Cowboys: Jason Witten and Blake Jarwin strike a balance at TE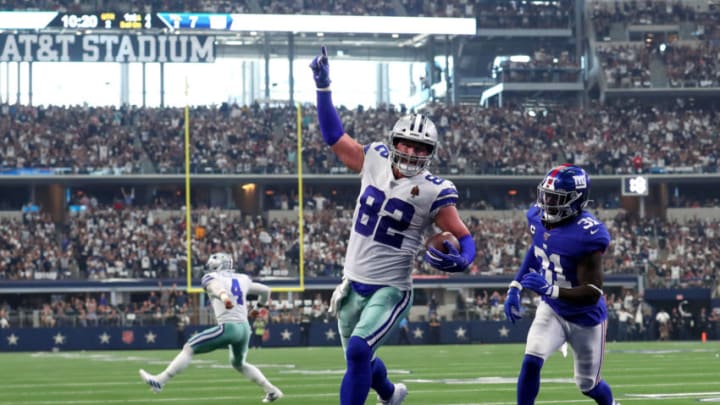 ARLINGTON, TEXAS - SEPTEMBER 08: Tight end Jason Witten #82 of the Dallas Cowboys celebrates scoring a touchdown during the second quarter of the game against New York Giants at AT&T Stadium on September 08, 2019 in Arlington, Texas. (Photo by Tom Pennington/Getty Images) /
Dallas Cowboys tight ends, Jason Witten and Blake Jarwin, combined to form a formidable duo on Sunday and may have already struck a sustainable balance in snap distribution.
"I'll believe it when I see it" is what many of us thought when we heard Jason Witten say he was willing to split snaps with his tight end brethren here in 2019. The Dallas Cowboys 16-year vet and future Hall of Famer has long been known for his unwillingness to leave the field. To think 2019 would be any different was ignoring all precedent.
But balance is exactly what we saw on Sunday and in just one week the unimaginable became reality. The only question is, is this balance sustainable?
Load Management
To those on the outside this may seem like no big deal. Jason Witten is 37-years-old, he spent a year away from the game, and short of a Super Bowl he doesn't have much left to prove. But those who know Witten know it's not quite that easy and Witt is the exception to just about any rule.
Over the years, Witten has been the Dallas Cowboys iron man. His ability to stay on the field defies all odds and his drive to be involved in every play is unparalleled. That's why many of us in Cowboys Nation snickered when we heard Jason would be willing to conceded snaps to his up-and-coming TE teammates.
Well, Witt proved us all wrong on Sunday, rotating with the explosive Blake Jarwin and allowing this offense to take yet another step in its development. At the end of the day, Witten played 45 snaps and Jarwin played 27 (according to Pro Football Focus). While a few of Jarwin's snaps where in 12 personnel (2TE sets), majority required Witten to sit on the sideline while Jarwin took the field.
Sustainable snap distribution?
The Dallas Cowboys found a nice balance already in Week 1, but does that mean it's a sustainable distribution? In short, "yes".
Blake Jarwin is someone who simply must get on the field. He offers downfield plays Witten no longer can provide on a consistent basis. Jarwin's ability to split out and run run routes like a receiver make him especially attractive to the motion-happy Kellen Moore.
More from Dallas Cowboys
In many regards Blake Jarwin played better than Witten on Sunday (which isn't all that surprising considering Jarwin's development as of late). PFF rated Jarwin's play as the 16th best in the NFL while Witten only clocked in as the 28th. Just looking at their current trajectory it's clear Jarwin's on way up while Witt is on the way…well, down.
At the end of the season, it'll be Jason Witten with more total snaps but don't be surprised to see some games in which Jarwin gets more snaps than the veteran Witten. Jarwin can be a match-up nightmare for some teams and Kellen Moore won't let a good advantage go to waste.
It's comforting to see the Dallas Cowboys were able to split snaps between Jason Witten and Blake Jarwin. It's a great step in the maturation of this offense and allows the team to field it's best man for the job at hand.
Published on 09/12/2019 at 11:01 AM
Last updated at 09/12/2019 at 07:11 AM