Dallas Cowboys Offensive Line: 3rd most penalized in the NFL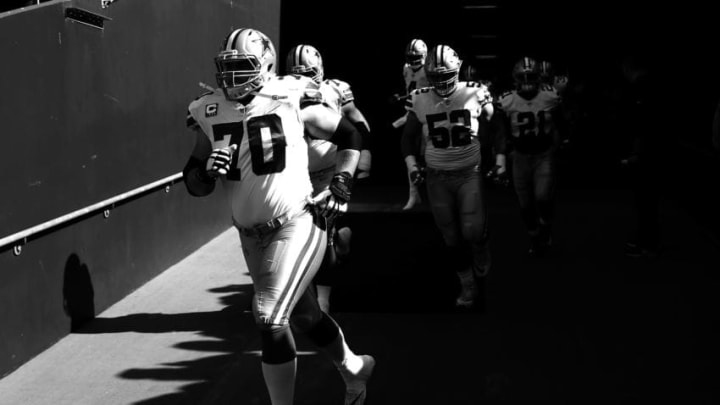 SEATTLE, WA - SEPTEMBER 23: Zack Martin #70 of the Dallas Cowboys and teammates take the field prior to taking on the Seattle Seahawks during their game at CenturyLink Field on September 23, 2018 in Seattle, Washington. (Photo by Abbie Parr/Getty Images) /
The Dallas Cowboys offensive line has been struggling with penalties this season and despite facing poor competition they're the 3rd most penalized in the NFL
When people hear, "Dallas Cowboys" these days, they often think of their offensive line. After investing three first round picks, two Day 2 picks, and significant cap space to the unit, it's understandable why the offensive line is considered the backbone of the team – it's essentially the most pedigreed, deepest, and most talented units on the team.
So it might be surprising to learn the Dallas Cowboys offensive line is one of the most penalized in the NFL this season. Their eight holding calls are currently third worst in the NFL (tied with five teams) according to nflpenalties.com. An especially shocking number considering the quality of opponent they've faced this season.
As pointed out by Kevin Seifert at ESPN, holding calls have been up all over the league this season. Through the first two weeks, there was a 66% increase in holding calls compared to the first two weeks of last season. It was so distracting, Al Riveron, SVP of officiating, called a meeting this past weekend asking for some flag-throwing restraint on questionable front-side blocks. Generally speaking, this worked as holding calls dropped from 5.7 per game to 2.9 per game.
But the Dallas Cowboys stayed the course and still collected flags above league average. Tyron Smith, La'el Collins, and Connor Williams were all flagged playing against the hapless Miami Dolphins.
Again, it's not just that the Dallas Cowboys are high on the list; it's that they're high playing against some pretty poor competition.
Something to monitor
There are plenty of reasons as to why Dallas is struggling with holding calls this season, but playing through injury may be the best reason. Zack Martin was out most of the preseason and came back less than 100 percent in Week 1. His two holding calls this year are abnormal to say the least (He had only three in his career).
If Martin didn't collect those uncharacteristic flags, Dallas would only have six holding penalties this season, 14th in the NFL. Not what you'd expect from this unit but perfectly reasonable nonetheless.
More from Dallas Cowboys
Fun Fact: Travis Frederick (universally considered less than 100 percent) is the Dallas Cowboys only starting offensive lineman yet to be called for holding.
Sad Observation: Connor Williams is noticeably struggling in Year 2 but his work ethic, athletic ability, and increased strength indicate he will improve as the season progresses. Still, more was expected of the former Texas LT this season and it's disappointing to see him ranked 46th amongst NFL guards three weeks in (according to pro Football Focus).
The good news is Zack Martin and Travis Frederick seem to be getting better by the day. Tyron Smith is a top-3 LT even when hampered by injury. And La'el Collins is playing the best ball of his career (Pro Football Focus' top rated tackle in the NFL).
The strongest single part of the Dallas Cowboys roster is widely considered to be their offensive line, yet they've been struggling with holding calls this season. Something to worry about? Probably not. But definitely worth monitoring as the competition improves.
Published on 09/24/2019 at 12:01 PM
Last updated at 09/24/2019 at 08:20 AM