Texas Rangers: Joey Gallo killing it in the virtual world
While there may not be baseball going on right now, there is the Players League on MLB The Show and Joey Gallo is dominating it for the Texas Rangers.
Texas Rangers fans don't know when, or even if, the 2020 MLB season is going to happen this year so like a lot of sports fans, they are trying to fill the void of baseball the best they can. A great way to do that is to check in on the players league on MLB the Show.
Joey Gallo has been just crushing opponents in the players league. On Friday night, Gallo faced off against Trevor May of the Minnesota Twins, Lance McCullers Jr. of the Houston Astros, Blake Snell of the Tampa Bay Rays, and Amir Garrett of the Cincinnati Reds.
Much to everyone's surprise (including Gallo's), he went 4-0 against the guys that he played, defeating all four of the opponents that he faced, and sending onlookers into a Twitter frenzy. Gallo was afraid that he was going to disappoint the Texas Rangers fans that were watching, but it was quite the contrary!
Joey Gallo is one of the most prolific home run hitters in the MLB, and the show that he put on during Friday night's series of games had people saying that he may be an even better home run hitter when he is playing MLB The Show against other major leaguers, than he is in real life. Which is a statement that I never thought that I would hear in my lifetime.
Going into Sunday (at the time of this writing), Joey Gallo was the only player that had a perfect record after the games that were played on Friday and Saturday.
If you missed Joey Gallo play on Friday, no fear! You will have the opportunity to see him play again on Tuesday via livestream from the MLB's social media accounts on Twitter, Facebook, YouTube, and Twitch starting at 8 p.m. central time. It was announced earlier on Sunday that his opponents would be Ty Buttrey of the Los Angeles Angels, Luke Jackson of the Atlanta Braves, Eduardo Rodriguez of the Boston Red Sox, and Rhys Hopkins of the Philadelphia Phillies.
It will be very interesting to see how Joey Gallo does against more opponents, and to see if he can continue to carry the Texas Rangers to the Promised Land in the players league that is taking place.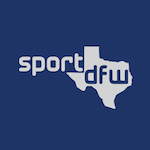 Want your voice heard? Join the Sports Dallas Fort-Worth team!
Write for us!
Win or lose, it will be fun to watch and cheer him on for the foreseeable future!