The Dallas Cowboys will go as far as their defense takes them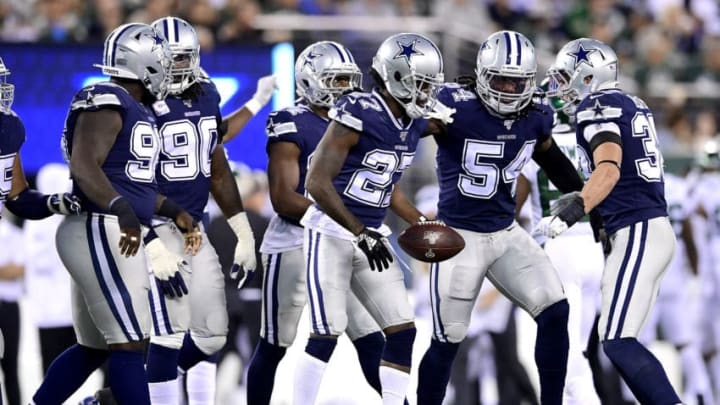 Jourdan Lewis #27 of the Dallas Cowboys (Photo by Steven Ryan/Getty Images) /
The Dallas Cowboys offense is top-notch and will only get better, but in order to win their defense needs to step up its game and match the offense's production.
During the 2018 season, the Dallas Cowboys had one of their best defenses in over a decade,  statistically finishing in the top-10. Finally, it seemed, the Cowboy had found their proverbial "War Daddies" in edge rushers DeMarcus Lawrence and Randy Gregory (along with Tyrone Crawford and Maliek Collins).
From the defensive line, to the the linebacking corps, to the secondary, the Cowboys defense was clicking on all cylinders. Linebackers Jaylon Smith and Leighton Vander Esch became one of the youngest and most talented linebacking duos in the league, earning the nickname, Van Jaylon. Stabilizing the whole thing was "The General", Sean Lee.
Former Cowboys Byron Jones led a young, promising, up and coming secondary made up of Chidobe Awuzie, Anthony Brown, Jourdan Lewis, Xavier Woods, and Kavon Frazier.  The majority of that defensive unit returned in 2019 looking like a shell of itself. On paper it was largely the same one that laid a physical beat down on the New Orleans Saints a season before but on the field it looked nothing alike.
An argument can be made that the defense is what failed the Dallas Cowboys in 2019 and was why Dallas didn't make the playoffs. Trust me, I want to lay some blame on Jason Garrett. While we expect the Cowboys to maintain their dominant offensive attack, it's the defense we're not too sure about.
Will the defense bounce back in Year 1 of Mike Nolan or will they once again be the reason the Dallas Cowboys fail to achieve their postseason goals?
The Dallas Cowboys offense was one of the best in the league in 2019,  averaging 27.1 points a game and leading the league in yards per game. This high powered offense could score points galore against any team, especially weak defenses.
Dallas absolutely destroyed the New York Giants, Washington Redskins, and Miami Dolphins to start the season 3-0 by scoring almost a 100 points in blowout wins. 
But on the other hand, Dallas' defense wasn't as dominant against inferior and anemic offenses. During Dallas' three-game winning streak, the defense was  abused. Sure, the defense made plays when needed too, but to go into halftime against the Dolphins up 10-6 is unforgivable given the Dolphins pathetic offense. And that was a major red flag that I wrote about at the time.
In fact, it was sign of bad things to come for Dallas' defense because it lost games in poor fashion to offensively challenged teams teams like the New Orleans Saints (without Drew Brees), the hapless New York Jets, the atrocious Chicago Bears, the mediocre Buffalo Bills, a non-threatening New England Patriots team, and to a ravaged, injury-riddled Philadelphia Eagles unit that were using practice squad players as wide receivers.
Although Dallas' offense wasn't as good in those games, it was the defense that let them down because it couldn't stop those anemic offenses they were facing from scoring. The critics can blame Dak Prescott all day for those losses, but most of the aforementioned teams had legitimate defenses.
Listen, I don't care how lethal an offense is, there are defenses that are going to flat out stop them, contain them, or do both. Combine inconsistent and conservative coaching to the mix, Dallas offense was going to struggle even more against those defenses. Blame Garrett for that.
In those losses, the defense was supposed to take over and win those games. Period. Throughout the season, Dallas' offense did its part to win games, and the defense couldn't come through even against lesser competition.
So what's the defense going to do in 2020 when Dallas' offense can only muster 20 points against the Pittsburgh Steelers stellar defense? Will the defense step up and make enough plays to stop a Steelers offense that no longer posses the likes of former All Pro Antonio Brown?
What if Dallas starts the season on a winning streak, obliterating opponents with its high octane offense? Firstly, that will be expected. Secondly, what happens when Dallas faces a stifling defense and can't score but a few points? Will the defense show up on its end? Can it make amends from last season's debacle?
More from Dallas Cowboys
The defense has to come in and saved the day in some form or fashion. Whether it's getting a timely sack or forcing a much needed turnover, the defense has to win some games that the offense can't win. The best examples were games against the Saints, Jets, and Eagles from last season. I picked those games because those were the most winnable games against offensively challenged teams and illustrates Dallas' defensive struggles.  Big Tank and the rest of the defense were supposed to eat them up like an alligator feasting on a wildebeest.  
Considering Dak will be the starting quarterback, Dallas will win a lot games because of its ultra-talented offense. But just like any offensively gifted team, there are will be games where the defense has to carry them to victory.
If Dallas has to out score every opponent to win games, then every game will be back and forth like a video game. But if the defense comes to play and can be a difference maker, much success will happen.
And that's why boys and girls, this team will only go as far as the defense can take them-because every Batman needs a really good Robin.
Published on 05/14/2020 at 11:01 AM
Last updated at 05/14/2020 at 08:55 AM