Dallas Cowboys: Strength of Schedule is unpredictable and unreliable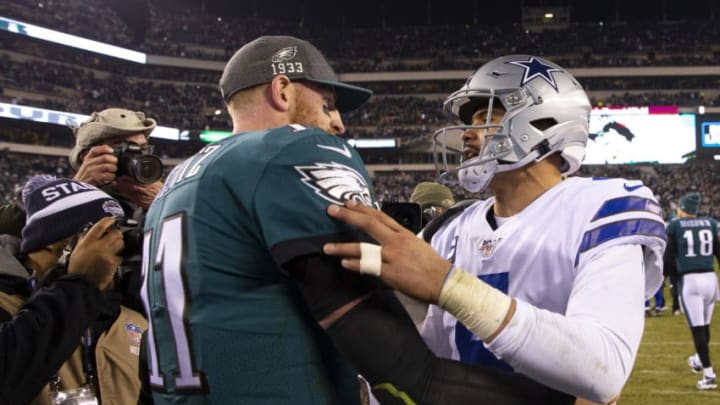 Philadelphia Eagles vs Dallas Cowboys (Photo by Mitchell Leff/Getty Images) /
Everyone is crying about the Dallas Cowboys 2020 schedule and how appears to be a cakewalk, but easy today doesn't mean easy tomorrow.
When the NFL released its its 17-week and 16-game schedule on ESPN, most of the fans and critics wanted to see how many prime time games the Dallas Cowboys were going to play in.
Sure, other insane fans were just as hyped to see how many primetime games their favorite team were awarded, but of course, the Cowboys were the main topic of conversation among ESPN analysts and fans alike about their primetime games.
The Dallas Cowboys have five primetime games during the 2020 NFL season, and that's the maximum primetime games allowed for any NFL team. But that's nothing new for the Cowboys because they bring the eyeballs to the television set and the high ratings that goes with it.
The Cowboys primetime games are marquee because they face the Los Angeles Rams in the season opener on Sunday Night Football, along with two other Sunday Night Football games, a Monday night football game, and their annual Thanksgiving game against their nemesis the Washington Redskins.
Oh, and two of those games are against the powerful San Francisco 49ers and the evil Philadelphia Eagles.
What looks like an easy schedule can turn into a tough schedule without warning.
Those games will be must-watch football games to be sure but the Cowboys got even luckier because the Cowboys have a strength of schedule of .459 playing in the least difficult in the NFC. Wow!
And just because the Cowboys have a perceived easy schedule, the Cowboys strength of schedule is highly unpredictable and unreliable because of unforeseen circumstances.
Dallas Cowboys must be ready
What looks like a walk in the park type of schedule to begin a season, can easily turn into horrific nightmare for a contending team. On paper, the Cowboys face several opponents that look like easy wins. With games against the Washington Redskins, New York Giants (a total of four games), Atlanta Falcons, Cleveland Browns, Arizona Cardinals, Cincinnati Bengals, its easy to give the Cowboys at least 7 wins.
When you add a mediocre team like the Rams to the equation, that's eight possible wins, with two games against an overrated Eagles team. Then there are marquee games against the Pittsburgh Steelers, Baltimore Ravens, Seattle Seahawks, and Minnesota Vikings.
But looking at  Dallas' NFC opponents, its easy to predict Dallas winning 10 games-with the expectation to steal a win here or there to give them 10 plus wins against their other opponents. However strength of schedule uses a team's previous season's success or lack thereof to predict that teams wins or losses.
They do it every year and its always wrong unless its the New England Patriots. 
But just like a starting pitcher, a curve ball is always thrown into that strength of schedule theory that throws it out of wack and really messes up the NFL's apple cart. And best believe the NFL loves it when an underdog team comes out of nowhere and wins several games.
The most recent example is the 2019 NFL season. Dallas was the defending NFC East champs and had a first place schedule. Dallas' toughest games were supposed to be against the Eagles (twice), Chicago Bears, Los Angeles Rams, and Tom Brady and his New England Patriots.
Dallas was predicted to lose against the Pats, Rams, at least one game against the Eagles because they're a tough rival. So basically, Dallas would go 3-3 against the toughest teams on its schedule and still win the NFC East because they were predicted to win it.
As we witnessed, Dallas had a disappointing defense that allowed them to miss the playoffs, the Bears weren't good, the Eagles were depleted, the Rams were overrated, and the Pats were a shell. Even with those teams not being legit, Dallas wasn't good enough to take advantage of their weaknesses and a secure easy wins.
To put this into focus, the Rams, Bears, and Pats were supposed to be top-notched teams in the league with Super Bowl aspirations. The Pats and Rams had just played in the Super Bowl and the Bears were top contenders for the Rams. The Eagles were supposed to contend as well, along with Dallas.
But injuries, defensive coordinators figuring out Sean McVay's offense, and other factors led to teams not making the playoffs, and it lended itself to surprising teams blossoming like the 49ers, Ravens, and Vikings, to name a few.
Nobody foresaw the 49ers being a number one seed, stream rolling through the playoffs and playing in the Super Bowl, and nobody predicted Lamar Jackson going 14-2 and winning the MVP as the quarterback of the Ravens.
More from Dallas Cowboys
And absolutely nobody saw Dallas losing to the lowly New York Jets and to the injury-prone Eagles and missing the playoffs. That's because there are so many unknowns from year-to-year with every team. A good draft, a new head coach, and a key free agent is all that's needed for a team to go from mediocrity to superiority- which makes them formidable.
Now do you see why a strength of schedule really holds no weight?
In today's NFL, SOS (strength of schedule)  is nothing more than a subject for sports analysts and fans to talk about because its as unpredictable as forecasting the weather in North Texas. What looks like an easy schedule can turn into a tough schedule in an instant.
When it comes to Dallas' schedule-and because of Dak Prescott, Amari Cooper, Michael Gallup, Ezekiel Elliott-it could win as many as 13 games with ease- regardless of unforeseen circumstances.
So lets hope Dallas can win 13 games and then some because if we're learned anything from last season' s disastrous season, a SOS will give you false hope and nothing but a lot trash talk from Eagles' fans. BOO!
Published on 05/21/2020 at 16:01 PM
Last updated at 05/21/2020 at 05:38 AM