The Dallas Cowboys will win the NFC East, but it won't be easy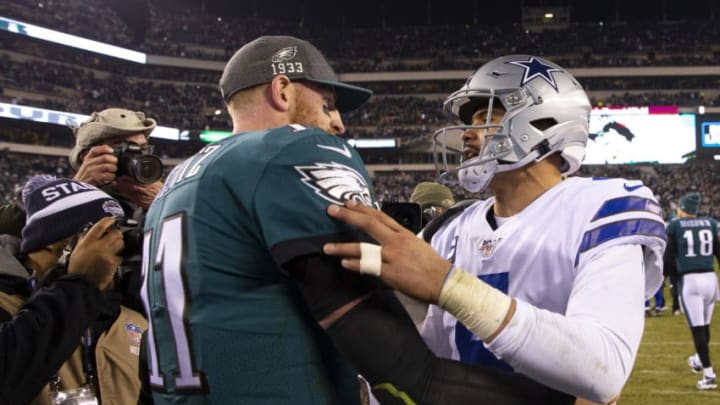 Philadelphia Eagles vs Dallas Cowboys (Photo by Mitchell Leff/Getty Images) /
The NFC East looks like a two-team race between the Dallas Cowboys and the Philadelphia Eagles.
For the last several seasons, the Dallas Cowboys and the Philadelphia Eagles have been the best in the NFC East. The Cowboys won the division in 2014, 2016, and 2018. The Eagles won the division in 2013, 2017 and 2019. Aside from a couple Washington division crowns and its really been a two-team race between the Cowboys and Buzzards. And rightfully so. They've been the most talented teams in the NFC.
To put the NFC East in perspective, there hasn't been a repeat division winner since the buzzards won it back in 2003 and 2004. Since then, it's been a different team winning the division each and every year.
As of late, the NFC East has been more like the NFC Least, largely because of the New York Giants and that team in Washington. But they are expected to be better this year and the division will be more hard fought than it has in the past.
Yeah, go ahead and laugh. You're thinking the Giants and Team Washington will suck and be noncompetitive as always. Wrong. Think again. They're the main reasons why the division will be more competitive.
And I'll tell you why.
The New York Giants have a new coach and had good draft.
Since 2017, the Giants have had records of 3-13, 5-11, and 4-12 in 2019. That's 12 wins against 36 losses.
No longer is Eli Manning the Giants quarterback, and the Giants now feature an up and coming quarterback in Daniel Jones (3,027 yards, 24 touchdowns, 12 ints, 45 rushes for 279 yards and two touchdowns), a decent receiving corps led by second year wide receiver Darius Slayton (48 receptions, 740 yards, 8 touchdowns), Sterling Shepard (57 receptions fro 576 yards, and 3 touchdowns), veteran Golden Tate (49 receptions for 676 yards, 6 touchdowns), and tight end Evan Engram (44 receptions for 467 yards, 3 touchdowns).
The icing on the cake is ultra-talented running back Saquon Barkley, and then the hiring of new head coach Joe Judge. Judge is a former special teams coach for the New England Patriots, and another Bill Belichick disciple ready to duplicate the success of the Patriots (for CowboysNation, lets hope not).
The Giants upgraded their poor offensive line by drafting offensive tackle Andrew Thomas in the first round, offensive tackle Matt Peart in the third round, Shane Lemieux in the fifth round, signed free agents offensive tackle Cameron Fleming, cornerback James Bradberry, running back Dion Lewis.
Then the Giants drafted Alabama safety Xavier McKinney, cornerback Darnay Holmes, and linebacker Cam Brown.
Overall, the Giants had a good draft and signed key free additions to address so many needs. The Giants will be a much improved team and will not be an easy win like in years past. Jones will take a big step in being a franchise quarterback because he has a decent receiving corps, a good running back, and an improved offensive line to boot.
With an improved offense with former Dallas head coach Jason Garrett calling the plays, expect the Giants to win a few games with an upgraded offense, along with a slightly improved defense.
The Giants will challenge Dallas and might sneak in a win, especially if Dallas' secondary doesn't improve. I see the Giants winning 7 games with both of their games against Dallas being at least competitive and interesting.
sidenote: Garrett was a mediocre head coach, but he's a really good offensive coordinator. He did a great job calling plays as Dallas' OC.  Garrett will improve the Giants offense tremendously. 
Even if Dallas beats the Giants twice, it'll be hard fought en route to them winning the NFC East crown.
Team Washington 
Besides dropping that awful nickname called the "Redskins", the only good thing going for Team Washington is the hiring of new head coach Ron Rivera. Known as "Riverboat Ron" for his desire to take chances throughout games, Rivera led the Carolina Panthers to a 15-1 record in 2015 and a trip to Super Bowl 50, only to lose to the Denver Broncos in a defensive dominated game.
As the Panthers head coach, Rivera had a record of 76-63-1, a 3-4  playoff record, and the winningest head coach in Panthers history. But what Rivera brings to Team Washington is a winning culture with a defensive mindset that plays hard on every down.
First and foremost, Rivera will improve Team Washington's defense from one of the worse in the league to at least an average one. And a good defense is annoying to an elite offense like Dallas's.
Sure, Dallas might win both games, but it won't be easy by any stretch. And we know how close and unpredictable the games are between Dallas and its old nemesis.
In addition, Team Washington boasts edge rushers Montez Sweat, Ryan Kerrigan, and highly touted rookie Chase Young. If Young plays up to the hype, this team will have some of the best pass rushers in the league, and in a passing league, the opportunities to sack and pressure opposing quarterbacks will increase dramatically.
With Rivera's defensive acumen, expect Team Washington to fight to the end and give Dallas a hard time. I wouldn't be surprised if Dallas loses at least one game to this team. But that's what good coaching will do for a losing franchise.
The Buzzards-the enemy of the state
The Buzzards always play Dallas tough and is truly their toughest opponent, year in and year out. Although Dallas had their number in recent years, the buzzards are like the Jason from the "Friday the 13th" horror series-they just want die, and fight to the end.
The Buzzards bring back their prolific quarterback in Carson Wentz, wide receivers Alshon Jeffery, DeSean Jackson, Marquise Goodwin, rookie Jalen Reagor, and tight end Zach Ertz. And the Buzzards signed talented free agent cornerback Darius Slay this past offseason.
More from Dallas Cowboys
I expect the Buzzards and Dallas to split because both teams know each others schemes and tendencies so well that both can exploit each other's weaknesses. In conclusion, I predict Dallas to win the NFC East because they have more offensive talent than their rivals, a new head coach in Mike McCarthy, a franchise quarterback in Dak Prescott,  a new defensive coordinator in Mike Nolan, a fantastic special teams coach in John Fassel, and boast other experienced coaches in Joe Phibin, George Edwards, and Jim Tomsula.
But it won't be easy because each foe will compete hard and win a few games. I predict Dallas will go 4-2 at worst and 5-1 at best. There's no easy wins in the NFC East this season, and that's because its competitive for the first time from top to bottom in over a decade.
Published on 07/16/2020 at 16:01 PM
Last updated at 07/16/2020 at 12:57 PM