Texas Rangers: What we have learned after eight games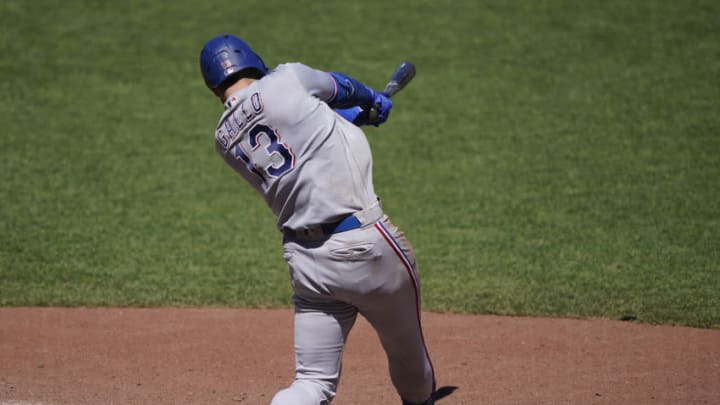 Joey Gallo #13 of the Texas Rangers . (Photo by Thearon W. Henderson/Getty Images) /
Eight games are in the books for the Texas Rangers, and they have been quite telling …
So the Texas Rangers have not really gotten off to the start that most were expecting, after their 1-0 Opening Day win, as they have posted a 2-5 record since then, to be 3-5 overall.
It has really been a weird start to the season for the team. The starting pitchers have been excellent for the most part, but the bullpen has been a bit shaky for the club through the eight games.
The team has also been dealt its fair share of injuries, seeing two key pitchers go down in Corey Kluber and Jose Leclerc with the exact same shoulder injury within a week of one another, sidelining them at least four weeks.
Lance Lynn has been probably the brightest spot on this team so far, as he has been one of the best pitchers in baseball through two starts, having posted 12 innings of work without allowing a run, and striking out 17 batters. Also of note is that he has walked six batters, and only allowed three hits thus far.
Mike Minor has had a bit of a rough start, as he has posted an 0-2 record with a 5.91 ERA in 10.2 innings of work on the young season. I think it is safe to expect Minor to get better, which will probably help even the team's ship a little.
Now to the offense…
After watching Opening Day, one of my friends and I were talking about this team, and what the offense is going to be like for this season, and we agreed on one term… boom or bust.
And it has been exactly that so far. In the team's five losses this year, they have combined for just ten runs, with their high total in a losing effort at just three runs scored.
On the flip side, in the most recent two wins for the Texas Rangers, the team has scored 16 runs combined.
More from Texas Rangers
So far this season, it has really been boom or bust for the Texas Rangers offense, with the latter happening more often. I would expect that to change going forward though. Joey Gallo has started to get into a groove, as you can probably tell from his big 3-4 game in the finale against the Giants, which included a monster home run that would put the Rangers back in front for the rest of the game.
But the offense did suffer another fairly significant loss, like the pitching staff did, as Danny Santana has been added to the injured list, but he is not expected to be out long, and will likely return to action when first available to be activated.
In place of Santana, Scott Heineman followed up his home run from Saturday night's loss with a solid day at the plate, going 2-5 with two RBI's and a run scored.
Overall, I think the 3-5 start is a bit indicative of what you will see from this team, with the offense either being really good, or really bad, but I do think it is going to balance out over time, and there is still a pretty good chance that the Texas Rangers can find themselves as a playoff team at the end of this 60 game sprint.
Published on 08/03/2020 at 12:25 PM
Last updated at 08/03/2020 at 06:30 AM