How the Dallas Stars continued their wild playoff march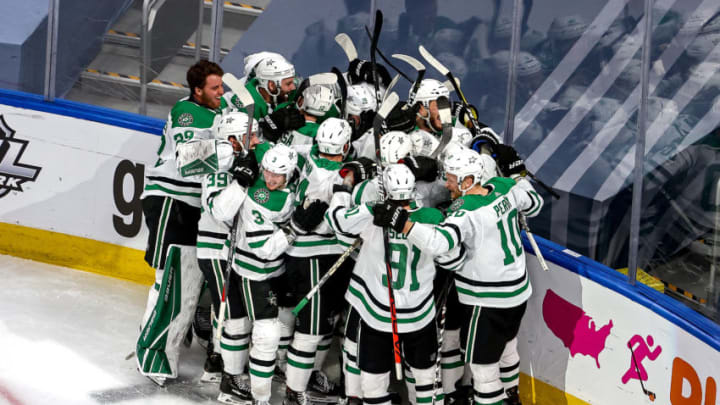 Photo by Bruce Bennett/Getty Images) /
The Dallas Stars capped a surreal weekend by winning Game 1 of the West Finals.
First thing's first: the Dallas Stars defeated the Vegas Golden Knights last night in Game 1 of the Western Conference Finals, 1-0. It took some recollecting on my part, but further research confirmed that this is the first time the Stars have enjoyed a series lead at this juncture of the Stanley Cup tournament since they moved to Dallas. It's worth noting if you believe that this year's bunch is special.
But above and beyond all that, it is imperative to discuss the events leading up to yesterday's win. The Dallas Stars blew a commanding 3-1 series lead against the Colorado Avalanche to force a Game 7 on Friday night. And for long stretches of that game, it appeared as though the Avs were poised to summit that peak and make the Stars pay for their mistakes.
But as I've discussed in this space before, the Stars possess a certain resiliency that has belied their erratic nature in this extended and weird campaign. One need look no further than the third period of Game 7. The Stars surged and tied the game with under eight minutes to go only to see Colorado score what felt like an overtime winner with less than four minutes to play. No matter, fill-in forward Joel Kiviranta chipped in his second goal ten seconds later to tie the game.
That score held until overtime when Kiviranta silently teleported to a different space in the slot to receive a pass from defenseman Andrej Sekera. Kiviranta wasted no time in burying that chance to complete the hat trick and send the Stars to the Western Conference Finals for the first time in twelve years.
More from Sports Dallas Fort-Worth
I cannot recall a Stars' playoff series that involved so many mood swings. I'm accustomed to them coming up short, so I was anything but optimistic heading into Friday's climax. If I'm being completely honest, I thought I'd seen that movie before. I didn't think I was going to enjoy how it ended. But for them to keep fighting and scratching and clawing and ultimately find a way to win? That was beautiful. It was a reminder of that wondrous feeling when your squad is on a bona fide heater. I'd be lying if I said my eyes were dry once I stopped losing my mess after the overtime winner. That goal washed away at least twelve years of general misfortune. The swell of pride elicited a certain emotion that's not common.
This is why playoff hockey is unparalleled. Nowhere in sports are the outcomes so random, so shocking, so determined by bits of uncanny skill and fantastical luck. You can watch your team win the first game of the conference finals last night, yet all you can still talk about is they way they advanced in the previous round. Playoff hockey is unparalleled.
Even still, larger prizes loom in the distance like a mysterious oasis. The Dallas Stars are currently seven wins away from their ultimate goal. Moreover, they appear to be a bunch that can play several different types of games.
These guys are in the NHL's final four, and they need to be lauded for that accomplishment.
Published on 09/07/2020 at 11:01 AM
Last updated at 09/07/2020 at 10:21 AM