Why all Texas Rangers fans should be thankful this Thanksgiving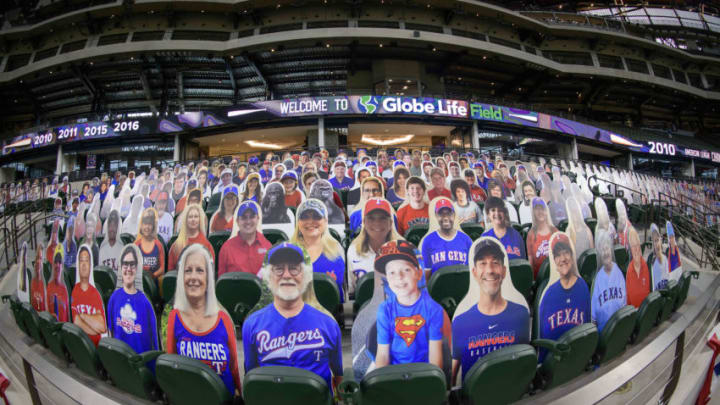 Jerome Miron-USA TODAY Sports /
Jerome Miron-USA TODAY Sports /
This Thanksgiving, I'm thankful for the Texas Rangers new home: Globe Life Field.
It was massively disappointing to be held out of Globe Life Field in its inaugural season. Still, Rangers fan have something to greatly look forward to when we can attend games again.
I toured Globe Life Field earlier this year. My first thought was, "I can't wait to hear the sound of a baseball game in this place."
Even in bleak times for the Rangers, a gem of a stadium offers much excitement. Here are a couple reasons to anticipate taking in a game at the new field:
It was designed with the fan in mind 
The total capacity of Globe Life Field is just over 40,000. This number is a sizable decrease from former home Globe Life Park. Why? "The facility was designed to bring fans 'closer to the action' from every seat."
There simply isn't a bad seat in the house.
Additionally, seats are wider, distance between rows is greater, and walking distances among the concourse are shorter than the former home across the street.
Many of us Ranger fans have endured the Texas heat on many occasions to enjoy a game. Can we even imagine watching a game with family and friends in the comfort of A/C?! This may be a feature we can't fully appreciate until we experience it. Nevertheless, I can't wait to sit through a game without having to worry about sweating through my clothes or taking home a third degree sunburn.
Air condition and baseball? That's a match made in Heaven. Thankful.
This Thanksgiving, I'm thankful for my fellow Texas Rangers fans
More from Texas Rangers
There's something about going to a baseball game that offers a sense of escape. For a few hours, we get to forget about job responsibilities, are endless to-do lists, and worries of tomorrow. For a moment, we forget our differences and come together. Rallying behind the same team on the field  brings unity and creates possibilities of strangers bonding. It's a big reason why I love sports.
Just the past week, I was able to connect with a couple new people with whom I share some common ground: we love the Texas Rangers. Meeting a fellow passionate fan creates an immediate connection and sparks friendly conversation.
So, this Thanksgiving, I'm thankful for you – my fellow fan. May we continue to find comradery in support of guys in blue and take pride in behind a loyal fan of the Texas Rangers.
Happy Thanksgiving.