Dallas Cowboys: Dalton Schultz's success an indictment on franchise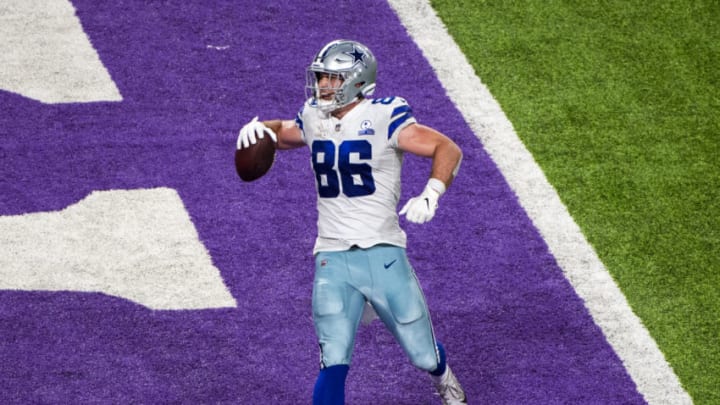 (Photo by Stephen Maturen/Getty Images) /
The emergence of third-year tight end Dalton Schultz this season is an indictment on the Dallas Cowboys decision makers.
Ladies and gentlemen, Dalton Schultz is the real deal. The third year tight end out of Stanford has been arguably the lone bright spot in an otherwise disastrous season for the Dallas Cowboys.
While the fact Dallas turned a fourth round pick into a legitimate TE1 in just three seasons is a testament to their scouting and development, it's also an indictment on their depth chart decision making.
How good is Dalton Schultz?
Dalton Schultz has proven to be a legitimate starting tight end in this league. The 24-year-old has emerged as a strong blocker capable of sealing the backside and executing at the point of attack. He's even a reliable target on this Dallas Cowboys offense that is in an anything-but-reliable QB situation.
Overall, Dalton Schultz is currently 41st in the NFL in receptions this season. Keep in mind, that number includes running backs and receivers. Amongst his tight end peers, Schultz is 6th in receptions. Of those with more receptions than him, only two have better catch percentages than Schultz, so it's not like he's just the beneficiary of high volume targeting here – he's making the most of his opportunities.
Schultz isn't the most explosive pass catcher nor if he the best blocker, but he's efficient at each and is developing into a well rounded tight end, capable of doing just about anything the position demands.
Why has he been buried?
Here's the million dollar question…or shall I call it the 37-year-old question since the Dallas Cowboys effectively buried Schultz behind a floundering 37-year-old last year.
Last season the Dallas Cowboys inexplicably brought back the once-retired Jason Witten. The future Hall of Famer was understandably limited in what he had to offer and graded out as Pro Football Focus' 43rd best linebacker in the NFL (which is generous).
As anyone watching the film can testify, Witten was a shell of his former self and was no longer an ideal TE1 in the NFL. Yet, despite the obvious liability he was blocking and advancing the ball, Dallas stuck with him – to the detriment of Schultz.
Keep in mind, Jason Witten caught 63 balls last season for the Dallas Cowboys and didn't break a single tackle. He was one of two tight ends in 2019 who was targeted 75+ times and failed to force a single missed tackle. Let that sink in. Now ask yourself, why on earth was he targeted 75 flippin times when Dallas had the explosive Bake Jarwin and the more dynamic Dalton Schultz standing by at the ready?
Witten didn't just steal opportunities in the rotation, but he led the tight end unit by a shockingly high percentage. In 2019 the Dallas Cowboys somehow thought it was wise to give Witten 845 snaps all while limiting Jarwin to 434 and Schultz to just 117 snaps.
While the franchise deserves praise for finding a diamond in the rough on Day 3 of the Draft, they deserve our outrage for not realizing it. Keep in mind, the only reason Schultz is even getting the opportunity he is now is because Jarwin has been lost for the year and Witten wasn't content with a back-up role here. It's very conceivable that if things fell differently, Schultz would still be buried on the depth chart.
More from Dallas Cowboys
It's important to point out, his strong play did not come as a surprise to those who have been watching and grading the film. Even in limited opportunities last season, Schultz was clearly the best run blocker on the team. And given Witten's inability to advance the ball after the catch, it was clear Schultz was the preferable option as a target as well. Yet, the Dallas Cowboys kept him buried (he was only targeted twice last season).
I wrote this article before the season started, at a time many were predicting another TE3 post for Schultz:
It's great the Dallas Cowboys can find Day 3 steals but it doesn't matter much if they're too hesitant/unwilling to play them. How many other diamonds are stuck behind disappointing veterans on this Dallas Cowboys roster?
Published on 12/01/2020 at 12:30 PM
Last updated at 12/01/2020 at 09:43 AM