Texas Rangers: With bold new decree, 2021 is officially a new era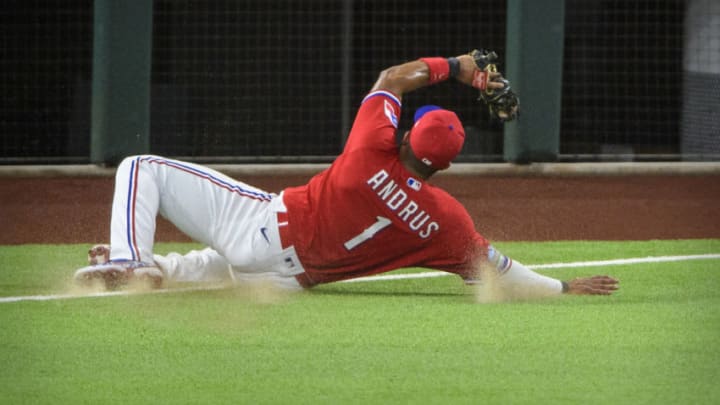 Jerome Miron-USA TODAY Sports /
The Texas Rangers announced Tuesday that Elvis Andrus will not be the team's starting shortstop next season.
As the only remaining member of the American League-champion squads of 2010 and 2011, the removal of Elvis Andrus from the every day lineup marks a new era for the Texas Rangers.
Tuesday's announcement by Jon Daniels on the demotion of Elvis Andrus was not a shocking one. The team has not shied away from their intentions moving forward: The Rangers want to get younger. Reigning Gold Glove-winner Isiah Kiner-Falefa will be the club's starting shortstop in 2021.
Elvis, 32, is an all-time fan favorite and ranks among the best in franchise history in many statistical categories. Even so, this is a rebuild. Emotional ties have to be severed and difficult decisions to create a winning ball club have to be prioritized. Know this — Elvis Andrus is my favorite baseball player ever. But this is the right move.
Looking back
On one hand, it's kind of hard to believe Andrus is only 32. Acquired in the Mark Teixeira-trade of 2007, Elvis would go on to play a major role on the greatest Ranger teams of all time, winning the AL Pennant in 2010 and 2011 (Neftali Feliz and Matt Harrison were also acquired in that deal). The then-20-year-old won the starting shortstop job heading into the 2009 as Michael Young transitioned to third base. Upon his debut, he was the second youngest player in the American League. The Venezuela native has been the Opening Day shortstop for the Texas Rangers every year since.
I'm not sure anyone has experienced as many ups and downs in a Rangers uniform than Andrus. Texas has gone 952-891 during Elvis' career. He has been a part of two American League championships and four division titles. The Rangers have played 52 playoff games in franchise history; Elvis was on the field for 42 of them. Additionally, he's earned two all-star nods and placed second in the 2009 AL Rookie of the Year voting. In short, you cannot tell of the successes of the Texas Rangers in the 2010s and leave out the name of Elvis Andrus.
Elvis will likely land in the Texas Rangers Hall of Fame. I think he has to:
Games played: 1,652 (2nd most in franchise history)
Runs scored: 893 (3rd)
Hits: 1,743 (3rd)
Stolen bases: 305 (1st)
Sure, there are many fans who believe he's been overpaid most of his career and never lived up to his hefty 8 year, $120 million extension received in 2013. Nevertheless, Andrus will forever be associated with the "glory years" of 2010-2011. As well as the contending years of 2012, 2013, 2015, and 2016. His on-field antics with Adrian Beltre were hilarious and his personality and smile are infectious. Part of why it's hard to believe he's over 30 may be because he acts like a kid when playing the game.
The right move
When speaking on the upcoming season, GM Jon Daniels said,
""2021 is a year we're looking at as really important for rebuilding and evaluating players moving forward. Part of that is that we'd like to see Isiah Kiner-Falefa have an opportunity to play shortstop. He's going to get that opportunity to be our starting shortstop next year.""
In turn, Daniels explained Elvis will move into a utility role in the infield. The decision was partly due to the Rangers looking to get younger, but that wasn't the only factor.
It's no secret Elvis' production has tailed off in recent seasons. 2017 was a career year for the shortstop, slashing .297/.337/.471 with a career-best 20 homeruns. His production dipped in 2018 as he played in just 97 games due to an elbow injury. While 2019 wasn't awful for Elvis at the plate, he did record below average numbers. As for this season, Andrus played only 29 games and posted career-lows in BA, OPS, and OPS+.
With up-and-coming talent in the Ranger's farm system (Anderson Tejeda, Maximo Acosta, Chris Seise, along with Kiner-Falefa) Elvis' time in Arlington is coming to inevitable close.
More from Texas Rangers
The Rangers aren't ready to show Elvis the door, however. "I would love it if he came into camp and tried to prove us all wrong and that he still belongs [at the position]," said Manager Chris Woodward. With two years remaining on his contract, the veteran is almost sure to crack the Opening Day roster in a bench role. Andrus is still projected to be a serviceable hitter by ZiPS over the next two seasons.
Thanks, Elvis
Whether Elvis' final days in Arlington come in 2021 or later, I hope he gets the proper send off from fans he deserves. As a centerpiece to many successful years and ranking among all-time Rangers in many categories, we may even see his jersey retired some day by the franchise.
For now, I'm with Woodward – I hope to see a bounce back year from Elvis in 2021 for the sake of his career and the team at large. Perhaps the club can build a contender again for #1 to make another run at a title before the time comes to hang up the cleats.
Love the Rangers? Join our writing team!
Personally, I hope that day comes later rather than sooner.