Dallas Stars: 2020-21 NHL season coming into focus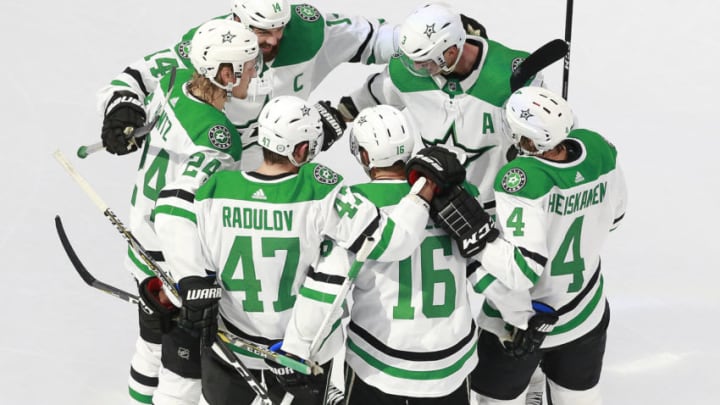 Dallas Stars (Photo by Jeff Vinnick/Getty Images) /
New details are starting to emerge regarding a possible 56-game schedule for the Dallas Stars.
It has been only 70 days since the Dallas Stars fell to the Tampa Bay Lightning in six games in the 2020 Stanley Cup Finals. It honestly seems like longer than that, and under any normal circumstance, we'd be about two months into a conventional hockey season right now. Further, for anyone starving for new action, there's been a measure of hand-wringing regarding the commencement of a new campaign.
There'd been rumblings from some quarters about scuttling the season altogether, which doesn't seem likely at all. Other reports mentioned the possibility of having outdoor games in order to accommodate fans. And while that would satisfy the need to have gate revenue flowing in, NHL commissioner Gary Bettman has expressed doubt because of the apparent cost. The league is simply not in a position to hemorrhage more cash than they already are.
So what does this mean for the Dallas Stars? It's more than you think. Because when you factor in people like The Athletic's Pierre Lebrun, the current talk centers around the possibility of a 52-to-56 game season starting as early as January 15th. I think this is a good move for the league. I understand and appreciate their desire for continuity and the attempt to get their schedule back on the rails as early as 2021-22.
This is important for the Stars for a few reasons. For as much as they have cornered the market on in-season drama, the simple fact is that they have made extended playoff runs in each of the last two years in spite of it. In 2018-19, it was Jim Lites spewing horse manure about his two marquee players, Jamie Benn and Tyler Seguin. Last season, it was the undulating nature of a team that bookended the firing of their head coach in the middle of a massive uptick.
More from Sports Dallas Fort-Worth
Moreover, the progress indicates that, for whatever reason, the current mix is working–finally. Benn can focus on being the leader without having to bear the scoring burden. Seguin can largely do the same, although any kind of retrenching year would be appreciated once he's back in fighting trim from his injury. There are also the locked-in contracts of young and increasingly playoff-tested talent like Miro Heiskanen, Radek Faksa, Roope Hintz, Denis Gurianov, and Esa Lindell. Never mind whether or not it was shrewd team building or sheer luck, but the "kids" on this team provide scoring depth and appear to make the Stars a viable playoff contender for probably the next two seasons.
In short, time is of the essence for this organization. If you follow this team, the last couple of years have provided endless stress. But the end result has been hard to argue with. They were an overtime goal away from the West Finals two seasons ago. They played a better team in the Finals back in September, but they also fell victim to the attrition war that is the playoffs. Despite that loss, I don't think I've ever been prouder of a Stars' bunch since they moved here. At this point, I just want to see them ascend to their highest heights.
So for the reasons I've laid out, I want to see this thing jump off as soon as humanly possible. Plus, there is also the prospect of having other sports return to the mix. As much as I love our current football landscape, there's something about the allure of a random Tuesday night Stars' game game that simply lends an air of normalcy to everyday proceedings. If you love the sport, it's hard to disagree.
Published on 12/07/2020 at 13:01 PM
Last updated at 12/07/2020 at 11:29 AM