Dallas Cowboys: Why we can't bank on the draft to fix the defense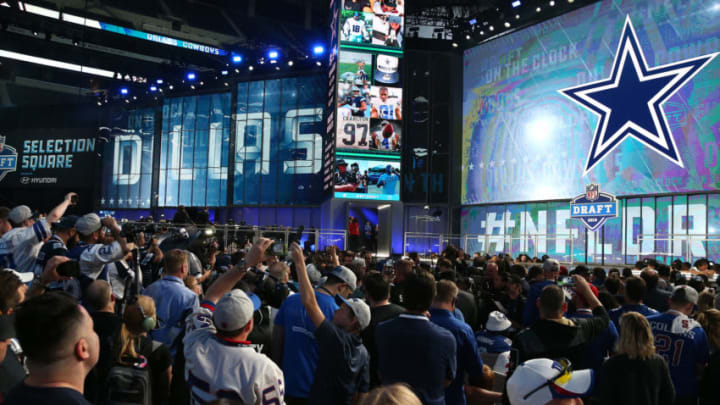 Matthew Emmons-USA TODAY Sports /
Dallas Cowboys fans, we've all heard it before: You plug holes through free agency but you build rosters through the draft. This, or some version of this, is meant to illustrate how successful teams are made. They aren't the ones who are the biggest spenders in free agency; rather they are the ones that draft the best players possible.
Free agency, is all too often overpaying for someone else's cast offs. Good players hit the market, don't get me wrong, but more often than not, contenders are built through the draft and not through free agent spending.
The NFL Draft alone won't fix the Dallas Cowboys defense
This is an attitude the Dallas Cowboys hold dear. Frankly, a little too dear. Led by Stephen Jones, the Cowboys bargain hunt in free agency to build their depth and satisfy major roster needs, so to speak. The real impact players they add are via the NFL Draft.
More from Dallas Cowboys
Based on the Dallas Cowboys free agent activity (or lack thereof) this year, this is their plan again heading into the 2021 season. Fans have been forced to embrace it and have set their sights on a defense-heavy draft to satisfy their needs.
Even I have produced mock draft, after mock draft, after mock draft, selecting defensive players almost exclusively. If the Cowboys aren't fixing the defense via free agency, then I guess we need to use the draft, right?
But I have bad news, the draft isn't going to get it done.
Not only are there too many holes to fill (SAF, CB2, DT1, DT2, LB), the Dallas Cowboys don't have the greatest track record when it comes to drafting defensive players. It's important to keep in mind, Dallas has invested far more premium draft picks on defense than they have offense.
It may feel like the offense has gotten all the attention but Dallas has been focused on defense each draft far more than offense. The problem is their defensive picks just flop.
So even if the Dallas Cowboys use all of their top-100 picks on defense, it's likely most of them won't pan out. And even if they all do, there's too many holes to fill by the draft alone.
The good news is free agency isn't done yet and there are still a handful of good players out there who can be starters on this Dallas Cowboys defense. But the clock is ticking and supplies are limited so the Cowboys would be wise to starting inking a few more deals sooner rather than later.
This also should illustrate why it would be a mistake to draft all defense early in the draft. If a better offensive player is available, Dallas should draft him because they're better at it and this ain't gonna get fixed in a single year anyway – no sense in forcing it.
Published on 03/26/2021 at 11:01 AM
Last updated at 03/25/2021 at 13:54 PM