Dallas Cowboys: Are we too high or too low on TE Blake Jarwin?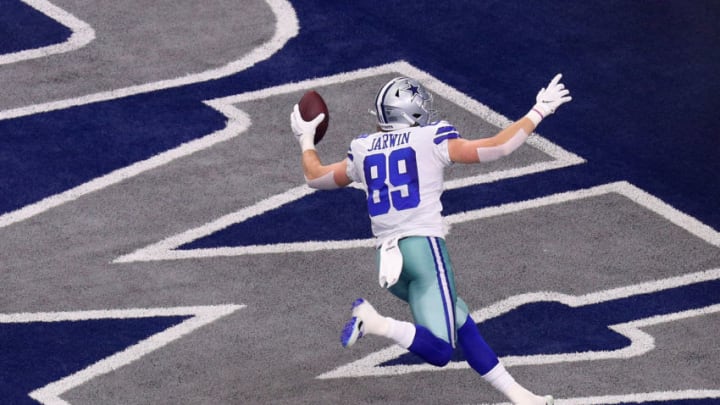 Blake Jarwin #89 of the Dallas Cowboys (Photo by Richard Rodriguez/Getty Images) /
The Dallas Cowboys made a series of exciting moves last offseason. They added a pair of inexpensive pass rushers in Aldon Smith and Everson Griffen. They scored CeeDee Lamb and Trevon Diggs in the draft. They even replaced a career .500 coach with a former Super Bowl winner. The list goes on…
And while those were demonstrably exciting at the time, one non-move looked to be just as exhilarating/impactful – elevating Blake Jarwin to TE1.
After years of playing in a part-time role, the third year tight end out of Oklahoma State finally got his call-up to the lead role. The unrefined prospect with a tantalizing skillset had flashed big plays for years playing at TE2 in the Dallas Cowboys offense. The idea of "Bird" Jarwin actually starting at TE in this already-potent offense, danced in many fans' heads heading into '20.
Here's why everyone should be excited about Blake Jarwin at TE1 for the Dallas Cowboys
Alas, not much of anything happened as planned in 2020. Not just from a global health perspective but also from a Dallas Cowboys perspective. Just about all the things fans were excited about before the season, fizzled pathetically. And the disappointment didn't spare us at the tight end position. 25 snaps into his first game last season, Blake Jarwin tore his ACL and was lost for the season. His breakout season would have to wait.
On track to be back for the 2021 season, the excitement about Blake Jarwin has been rekindled. After the committee approach in 2018, to Jason Witten's comeback in 2019, to Dalton Schultz's chance in 2020, Dallas Cowboys fans finally get to see what a real playmaking TE looks like.
But not everyone is sold on Jarwin in Cowboys Nation. There are some who want the Dallas Cowboys to attack the tight end position in free agency. They want the Cowboys to get a veteran like Zach Ertz (via trade), Tyler Eifert, Jordan Reed, or Trey Burton to lead the unit. They don't have faith Jarwin can get it done and want to bring in an established presence to man the TE1 spot until Jarwin proves he's more than a flash in the pan.
So who has it right? Is it the segment of Cowboys Nation who's skeptical of Blake Jarwin's ability to be a TE1 or is it the segment who believes Jarwin is the best possible option (best option not named "Kyle Pitts", that is)?
Obviously, there's no way to know for sure right now, but I'm here to make the case for the latter. I'm here to tell you Jarwin is the real deal and bringing in a veteran would just be another example of chasing name recognition and not a way to improve the starting lineup.
Dallas Cowboys TE: Blake Jarwin has the skills
Not many in Cowboys Nation are questioning Blake Jarwin's skill set. The 6-foot-5, 260 lb. pass catcher ran a 4.69 40, ran a 4.34 second short shuttle, scored a 10-foot-1 broad jump displaying speed, explosion, and athleticism. After roughly two years of positional grooming, he started showing it on the field…
Watching the film above, Jarwin shows a knack for getting open, both against man and zone coverage. He has an enormous catch radius and can adjust to the ball midair. He's a deceitfully fast long-strider who is tough for defensive backs to get a read on pursuit angles.
Keep watching, Jarwin can high-point a jump ball one play and then pick one off his shoelaces the next. He has a clear connection with Dak Prescott and makes himself available when things breakdown and Dak has to improvise. He breaks tackles and follows blocks as well, making him a valuable weapon in the bubble screen game.
His blocking is nothing to write home about. He's functional as an inline blocker but that's about as far as I can go in that regard. But when he's split out in the slot he's a beast. As per PFF, in 99 snaps from the slot in 2019, Jarwin finished with the third most receptions in the NFL (amongst TEs). PFF also points out Jarwin was the Dallas Cowboys top red zone weapon from 2018-19. Something Dallas was clearly missing last season.
So why hasn't he put up the big numbers to prove it?
Blake Jarwin's doubters will look at his stats and say, "how come he hasn't consistently shown this dominance you speak of?" The skepticism is understandable given the most yardage Jarwin has produced in a single season in 365 yards.
To them I say, when has any TE2 on the Dallas Cowboys proven it?
The Dallas Cowboys have a history of wasting backup tight ends. Two promising talents from the past, Anthony Fasano and Martellus Bennett, doubled their single-season numbers once they got out of Dallas.
The best season Marty B had as TE2 in Dallas was 33 receptions for 260 yards. But at age 27 playing TE1 in Chicago, he was able to put up 916 yards, six touchdowns, on 128 receptions.  Blake Jarwin is about to turn 27 this season. His best season as TE2 in Dallas is 31 receptions for 365 yards and three touchdowns so he's already ahead of Bennett's curve. He could see the same stat explosion that Bennett did.
More from Dallas Cowboys
Keep in mind, Jarwin has never played more than 39% of the snaps on offense before (that's 434 snaps in 2019). It only makes sense his numbers are directly linked to his opportunities.
Blake Jarwin has done a lot with the opportunities given to him and he's showing improvement along the way. From 2018 to 2019 Jarwin improved his yards per reception from 10.6 to 11.8. He improved his YAC from 4.3 to 5.1. His average distance of target increased from 8.9 to 10.1. And Jarwin increased his yards per route run from 1.34 to 1.82. He's just getting better.
None of this guarantees Blake Jarwin is going to be a Pro Bowler in the next couple seasons but it sure looks good based on his skill set, his efficiency numbers, and the opportunities of a TE1 in Dallas.
Go ahead and draft a rookie to compete with Jarwin at tight end but don't hunt for an aged progress stopper or we may have another sad story of wasted TE talent.
Published on 03/27/2021 at 11:01 AM
Last updated at 03/25/2021 at 16:21 PM