Dallas Stars: Are we kidding ourselves about their chances?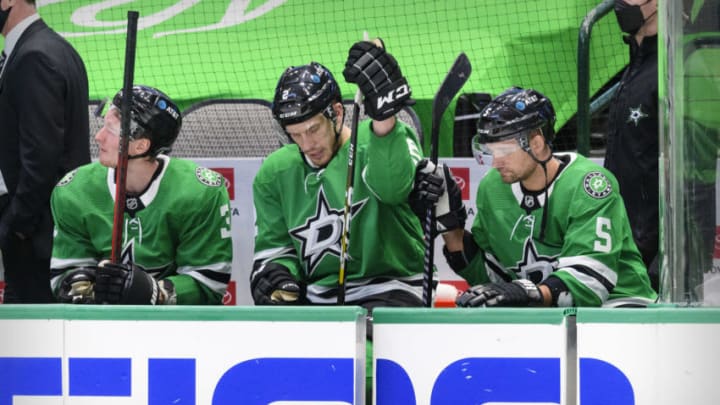 Mandatory Credit: Jerome Miron-USA TODAY Sports /
The current state of the Dallas Stars looks pretty bleak. They came home for a five-game homestand on March 21st and proceeded to post a1-2-2 record during that stretch. This culminated in yesterday's 4-1 loss to the Florida Panthers, which again featured a lot of good things. In fact, the Stars were vexed this time by a bad first period that saw them quickly give up an early 1-0 lead en route to a 3-1 first intermission deficit.
What followed was the common refrain for this bunch. The Stars emptied the clip and were the better team in last two periods. They simply couldn't pierce Florida goalie Chris Driedger, who stopped thirty-three of thirty-four Dallas shots to secure the Panther win. It was just another microcosm for the Stars this season: play hard and well enough to win, but fall short.
The Dallas Stars are fighting the good fight, but they're not getting it done.
So it begs the question. Is it time to be honest with ourselves about this year's team? At first blush, the answer would be yes. At certain times, they've been struggling with absences, pandemic and weather-related stoppages, in-season injuries, and being forced to play a lot of their kids. To say it's induced a prog rock-like rhythm to the campaign is an understatement.
But if you take just a cursory look at their situation, it's not as dire as you might think. While Tampa Bay, Carolina, and Florida are running away with the top three spots in the realigned Central, there's a gaggle of five teams that are still within striking distance of the fourth and final playoff spot in the division.
More from Sports Dallas Fort-Worth
The Stars, despite their continual woes, are only six points behind the Chicago Blackhawks for that coveted position. They've also got the requisite number of games in hand needed to make up that stagger. Granted, they've got some pretty notable obstacles in their way. The roadblocks are primarily injury-related. Of course, you have goalie Ben Bishop and center Tyler Seguin recovering from offseason surgeries, and it just might be too late by the time they find their way back into the lineup. There's also the day-to-day nature of the ailments plaguing forwards Roope Hintz and Alexander Radulov. Any way you look at it, that's a lot of firepower that's either gone or can't play every day.
And look, I get it. No other team in the league is clutching their pearls over the Stars and their injury problems. But you still cannot give this squad a fair shake without taking their personnel issues into account. There's been a glaring lack of continuity in all aspects of the organization that haven't been entirely their fault. The team I'm watching right now is not getting run off the rink on a nightly basis. That suggests their puck luck will come back to them at some point.
Do you love the Stars, Mavs, or Rangers? You could write for us!
Whether or not that happens this season remains to be seen, but the eyeball test keeps telling me some of these chances will start to go in before too long. It's a big ask, but if the team can just put a good week together, they're going to find themselves right back in the playoff discussion. Don't give up on these Dallas Stars until they're completely out of the picture.
Published on 03/29/2021 at 12:31 PM
Last updated at 03/29/2021 at 11:39 AM