The Run Game Is Key for Cowboys' Super Bowl Aspirations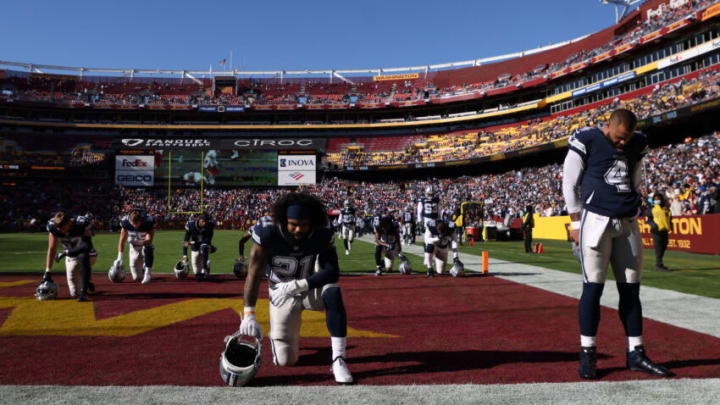 LANDOVER, MARYLAND - DECEMBER 12: Ezekiel Elliott #21 and Dak Prescott #4 of the Dallas Cowboys take a moment prior to the game against the Washington Football Team at FedExField on December 12, 2021 in Landover, Maryland. (Photo by Rob Carr/Getty Images) /
Many longtime Dallas Cowboys fans might be as bewildered as I am during this second half of the season. I feel more confident in the defense than our offense. For the last several years I have always told myself that "if the defense could just be a bit better, we can win a championship."
This year my dreams have come true and the defense is top ten right now without question. But there's something amiss. Ever since the bye, the Dallas Cowboys offense has seemed shaky and they lack the ability to finish a drive. Going 1-6 in the redzone against most team results in a loss. Fortunately, the defense holds strong.
The Dallas Cowboys need the run game to make a postseason run
Ezekiel Elliot is quite the hot topic for Cowboys and football fans alike. One thing we can all agree on, is that Zeke is not himself right now. Since the bye week Zeke has been "fed" 83 times or an average of 11.9 attempts. With those attempts he is averaging 3.48 YPC and has three TDs.
There is a pretty clear problem with Ezekiel Elliot if you have been keeping up with Cowboys beat writers for the past two months. He has been dealing with a nagging knee injury which has not prevented him from playing but playing like he can? Well that is certainly a different story.
The offense has simply been inefficient because teams know they don't need to worry about getting beat on the ground. Our offensive line according to PFF is ranked first in the league and yet the majority of the carries are 3-4 yard rushes that add little to the drive that is being put together. Teams are often not even stacking the box and the gains we get from running the ball are minimal.
Resting Zeke for a week or two wouldn't be the worst thing for us right now. He looks slow and he's not providing much extra on the gridiron at the time being. Tony Pollard is more than capable to handle the workload. Let him show himself off and we can see exactly what he's capable of when he's taking 90% of the snaps. He does great with less than 45%.
This also takes pressure off of Dak to perform because now defenses have to consider the run game and not run defensive sets where there are three guys on the D-line. And most importantly, Zeke can recover and be ready for the playoffs. We need him. If he does play the remainder of the season he's likely going to be a 1,000 yard rusher. He most definitely had gas left in the tank but right now is not the best time to use him.
What do you think they should do? Let us know n the comments