Texas Rangers decision has lasting, monumental consequences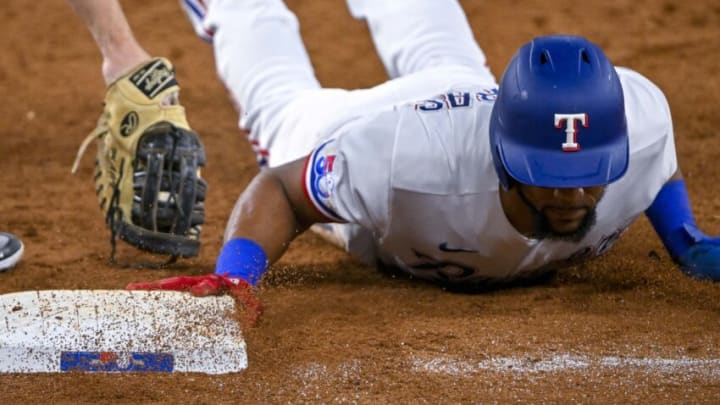 Jerome Miron-USA TODAY Sports /
It was all overdue. Regardless of how you feel about either Chris Woodward or Jon Daniels, the atmosphere and culture of the Texas Rangers needed to change. Replacing the men at the top just happens to be the quickest and easiest way to do that.
When the Texas Rangers broke ground on their new stadium in 2017, they didn't imagine they'd be standing at the wrong end of a rebuild. The plan was to be emerging from that rebuild and rekindling the fire in the fanbase. But when the doors opened in 2020 failure to develop young players led to bad baseball. Together with a certain global pandemic, it cut those hopes and dreams of rebuilding the fanbase off at the knees.
At the start of the 2022 season, the Texas Rangers were ready to do what they hoped to, two seasons prior. They hoped to play competitive baseball. They hoped to fill the stadium. They hoped to change the culture of the club into being winners.
The Texas Rangers new manager will preside over a pivotal time in this franchise's life cycle.
After starting the season 7-24 in one-run games, it was clear the Rangers did not know how to be winners. That record, arguably the biggest deciding factor in Woodward's dismissal, is against all odds, bad. It's partially on Woodward for his game management and it's partially on Jon Daniels for the roster. It's safe to say if that record in one-run games was flipped, Woodward would not be couch-surfing today.
Teams get to hit this reset button only so often. Real changes are across the personnel on the field. Those changes take much longer and cost considerably more. Managerial and front office changes are comparatively easy. They're the get out of jail free moves for a franchise.
The Texas Rangers pressed the button this week. That's fine. But they won't be able to press the button again for some time. That means the decisions they make in filling the manager position, has to last.
On the upslope, this is an important time for the development of the club. The farm is restocked and the future lineup is becoming more clear by the day. Poor decisions will have lasting effects that the Rangers cannot afford.
Who the Rangers bring in will impact the development of the roster as well as impact who the Rangers can sign in free agency this winter. It will set the Texas Rangers on a path.
Sports Dallas Fort-Worth /
Want your voice heard? Join the Sports Dallas Fort-Worth team!
Who do you think is the right manager for the job?