Dallas Cowboys Embarrassed vs. Bucs – Thoughts and Notes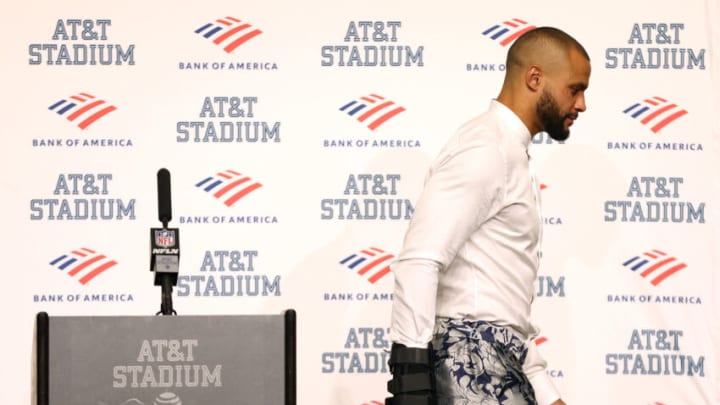 (Photo by Tom Pennington/Getty Images) /
(Photo by Tom Pennington/Getty Images) /
The Dallas Cowboys opened the 2022 NFL season with a 19-3 loss at the hands of the Tampa Bay Buccaneers. This means Dallas starts 0-1 after falling to the Bucs for the second straight season and additionally means they'll likely never get another opportunity to do what they've never done. Beat a Tom Brady lead team.
Here we'll take a look at Dallas Cowboys players and moments that shaped the game with some quick hitter notes.
Starting with the QB – simply put, there was something wrong with Dak Prescott going into this game. Physically? Mentally? Both? Was the ankle pop earlier in the week more of an issue than the team lead on? We can't be sure. However, despite poor OL and WR play, Dak himself wasn't good enough prior to going down with a hand injury that will sideline him for 6-8 weeks.
Kellen Moore wants to be creative. Everyone understands and wants the same. The issue is in the NFL, the game is too fast for long developing plays with the ball being pitched around 10 yards behind the LOS. Meanwhile, the TE and WR end up engaged with one another while defenders blow by. Throw those out the window. Find ways to get the ball in your play makers hands going UP THE FIELD.
The offensive line was everything Cowboy fans imagined. Zack Martin was great, but it doesn't matter because Terence Steele turned in a terrible performance via penalties and missed assignments. Tyler Biadasz wasn't bad himself, but it doesn't matter because Matt Farniok, a 2nd year 7th round pick, wasn't ready for this kind of action.
While Tyler Smith had encouraging moments, and perhaps even played overall better than many expected, but he still had severely rough moments. The injury to Dak's hand occured with Smith being late out of his stance and allowing TB's best pass rusher to get around him. Another play Smith crashes inside to help his guard, but there's a problem. There's a wide rusher on the edge who gets a free run at the QB. These may be communication issues and ones he wouldn't have been concerned about while playing guard. Lack of practice reps showed up on these plays.