Dallas Cowboys Embarrassed vs. Bucs – Thoughts and Notes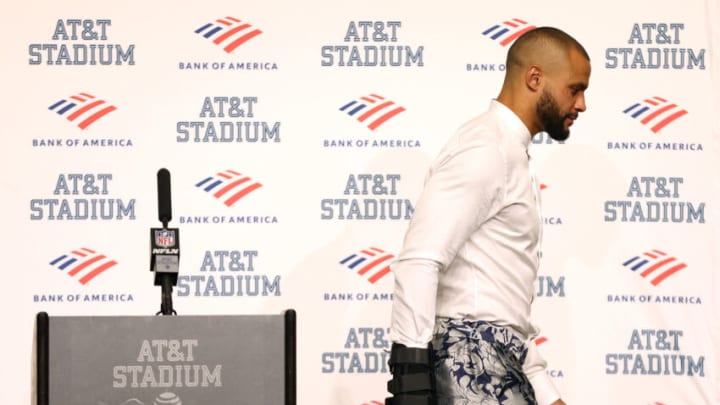 (Photo by Tom Pennington/Getty Images) /
(Photo by Tom Pennington/Getty Images) /
More Dallas Cowboys Notes
The defensive side of the football was much better for the Dallas Cowboys. It wasn't a perfect night, but holding Tom Brady and a high powered offense to 19 points, including only one touchdown is a very good night. Factor in the pressure and poor situations the Dallas Cowboys offense passed off to the D and it's a performance the team can be pleased with.
Micah Parsons has a chance to have an incredibly special season. His work against each of Tampa Bay's tackles speaks for itself. The first of two sacks came against Donovan Smith where Parsons sets Smith up by pushing hard up field before spinning back inside. On the second sack against Josh Wells, Parsons dips his shoulder to whip around with a speed rush to get to Brady. It'll be incredibly fun to watch Parsons rushing against QBs who don't get the ball out as quickly as Brady does.
DeMarcus Lawrence also had a solid night. As great as Parsons sacks were, Lawrence had a TFL that Guard Shaq Mason would rather not see in the film room around his teammates. A very quick and precise engage and swim left Mason on his knees and Lawrence knocking Leonard Fournette backwards on a 3rd and 1. It didn't take long for Tampa Bay to decide that running at Lawrence was the wrong approach.
Quinton Bohanna was effective against the run while playing 42% of the snaps. There had been talk about his improvement and it showed up for him. Not a perfect night, but the pad level is significantly better which was his glaring issue as a rookie.
The rest of the defense struggled against the run. This has been something the Cowboys have dealt with time and again. The Bucs collected 155 yards on the ground against the Cowboys. Not in a "we have the lead so we'll churn out the clock" type of way. They gained those yards consistently throughout the night, especially when the Bucs decided to run at the right side of the Cowboys defensive front. Outside of a couple of nice moments from Trysten Hill and Osa Odighizuwa, the run D left a bit to be desired.
Leighton Vander Esch quietly had a nice game. He lead the team with nine tackles, most of which were around the LOS. His help was consistent throughout the night. He might not have jumped off the screen with any WOW plays, but he was around the ball all night.
Trevon Diggs had a very good game. In the first quarter he was hit with a smoke to Godwin, which he took a poor angle on, and gave up a reception to Mike Evans. Otherwise, Diggs was nearly flawless. The touchdown to Evans in the 3rd quarter was all Mike Evans. Diggs wanted an OPI call, and he has a case, but the push off was smooth, quick and coupled with a phenomenal catch. This league won't give Diggs or any CB that call, nor should they. Simply an outstanding play made by the WR.
Perhaps the most pleasant and unsuspecting surprise was Donovan Wilson in coverage. He not only came up with an INT, but also trailed with Julio Jones across the field on a deep ball. He stayed with Jones just enough that Brady had to stretch Julio out a little too far for an incompletion.
Anthony Brown again was mildly picked on. Nothing like we saw a season ago, but there's no question the Bucs like the matchups they get against Brown.
Overall, holding the Bucs to only 19 points is a solid accomplishment. It should be good enough to win ball games if you have a competent offense. There's still issues in stopping the run, which Tampa Bay took advantage of running more than they threw, but holding Tom Brady to 212 yards, 1 TD and 1 INT is no easy task. They played well enough to win. They just didn't have any help at all from the offensive phase of the game.
Final Thoughts: With Dak Prescott set to miss 6-8 weeks with a broken hand will the Dallas Cowboys be content to turn to Cooper Rush? Will they give youngster Will Grier a shot? Would the front office feel more hard pressed to make a move for a WR to help?
The scary part is the thought that they may be content with believing Jason Peters, Michael Gallup and James Washington returning will be considered "the cavalry arriving" to save the day. Which, would be on brand with their way of thinking rather than being aggressive and making moves.