Can heavily penalized Dallas Cowboys play smart AND instinctually?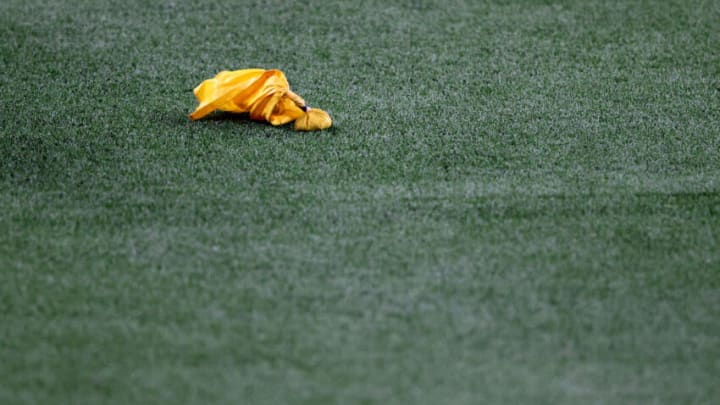 (Photo by Ronald Martinez/Getty Images) /
The Dallas Cowboys are one of the best teams in the NFL. Standing at 8-3, Dallas currently has the second best chance in the league to walk away with a Super Bowl (per FiveThirtyEight). That doesn't mean everything is hunky-dory in Cowboys Country, though.
The Dallas Cowboys are also the second-most penalized team in the NFL. Their 83 flags against, are 23 more than the NFC East first place team, Philadelphia Eagles, and are a big reason why Dallas has the three losses they have this season.
The Dallas Cowboys instinctual play makes them an explosive bunch, but does it also make them penalty-prone?
The Dallas Cowboys currently have the sixth ranked defense overall in the NFL. They are second in pass defense and 23rd in rush defense. Since Dak Prescott came back in Week 7, the Cowboys offense ranks fourth overall (3rd in passing and sixth in rushing EPA).
They are explosive off the snap, dominating in pass rushing and run blocking. It's no surprise their two strengths fit their aggressive and penetrating style of play while their two weaknesses (pass-protection and run stopping) are more reactionary by nature.
It stands to reason that being a little less instinctual or explosive might reduce the number of penalties called against, but would it be worth it?
I offer up an emphatic, "NO!"
Even if a more passive or cerebral approach reduces the flags, it's doubtful the value added would be worth the cost of some lost explosive plays. While that's impossible to quantify exactly, simply focusing on a few different critical types of penalties could do wonders for the Dallas Cowboys.
For instance, the Dallas Cowboys lead the NFL in Unsportsmanlike Conduct penalties. Applying restraint would curb these without taking away from the explosive get-off-the-ball nature of their game. The Cowboys also lead the NFL in Illegal Blindside Blocks. This is also a penalty which shows a lack of restraint.
The Cowboys lead the NFL in Illegal Motion and Offensive Offsides. These are purely focus-based penalties that can be cured by basic levels of awareness.
False Starts and Defensive Offsides (and neutral zone infractions) are pre-snap mistakes that make everyone (players, coaches, and fans) want to pull their hair out. But they are directly linked to the aggressive nature of both lines. Holding and pass interference calls are responses to getting beat and somewhat unavoidable.
But the penalties listed above that Dallas leads the NFL in (Unsportsmanlike Conduct, Illegal Blindside Blocks, Illegal Motion, and Offensive Offsides) are all preventable by applying focus and/or restraint and do nothing to impact the explosiveness of the offense or defense off the snap.
If the Dallas Cowboys can address these odd outlier penalties and apply a little more situational awareness overall, they can reduce their penalties and the subsequent impact of those penalties, without stealing from their aggressive nature.
Let's hope this is a situation that doesn't bite them in the playoffs