Dallas Cowboys need more to succeed going forward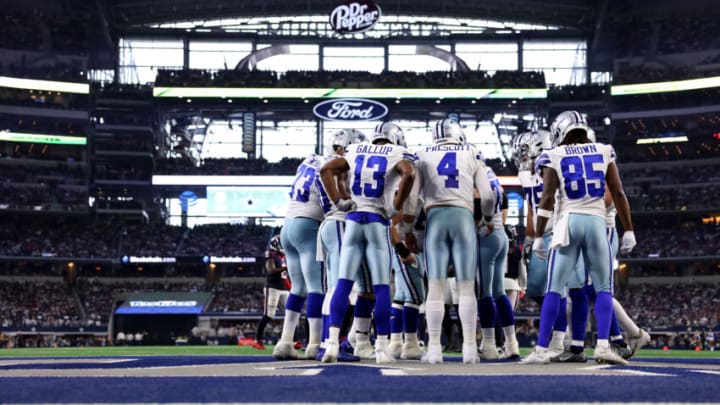 (Photo by Tom Pennington/Getty Images) /
For those wondering if a close game with the Texans should hinder the Dallas Cowboys hopes of Super Bowl contention, I have a simple answer for you: No.
One bad game against a worse opponent does not correlate to a lack of playoff success. It is when it becomes a trend that concern can be allowed to surface.
The Dallas Cowboys played down to their opponent and almost paid for it
Yes, it is frustrating that we weren't able to flex our muscles against a team that felt like shouldn't have taken much effort to beat. But at the end of the day we got the win and our playoff seeding will not come down to how much we beat the Texans by, just that we beat them at all.
Last week, I talked about how the Cowboys really only turned it on in the final quarter of the game. Well, they decided to one-up me this week and left it to the final drive. And they certainly turned it on and showed why they have a top offense in the NFL.
Dak Prescott looked the best he had all game and they were able to drive down the field with little resistance with the only play of no yardage being Michael Gallup's drop in the endzone.
You could see the urgency and the aggressiveness that Kellen Moore employed and it's something that we hadn't seen for the majority of the game. It was a refreshing reminder of what this group is capable of.
And the pure grit of the defense to get right back on the field after a Dak Prescott interception and stop the Texans on a goal-to-go scenario was fantastic. A score there surely would have all but wrapped up Sunday's game.
Unfortunately, I must rehash last week's point of starting off slow and never getting into gear until they feel they "have to". I feel their is a lack of urgency against teams the Dallas Cowboys know they can beat with relative ease on paper rears it's ugly head far too often.
Compare this game to when the Cowboys played the 1-loss Minnesota Vikings at home. To say they came out of the gate firing would be an understatement and it resulted in 40-3 victory. IN two of the last three weeks against the Giants (7-5-1) and the Texans (1-11-1), the Dallas Cowboys were trailing at half and in the case today up until 41 seconds left in the game.
I know what this team is capable of and if this is something that is standing in the way then it is something that needs to snuffed out sooner rather than later, preferably yesterday.
Next week the Dallas Cowboys play yet another AFC South opponent in the Jacksonville Jaguars who are on a similar plane of the Colts. This team has nothing to lose and will be looking to usurp a 10-win team next Sunday.
A complete game from the Dallas Cowboys should allow for a painless victory but recent trends can indicate differently. A added tone of aggressiveness that we saw in the final drive would be a refreshing sight to see.
What do you expect?