Dallas Cowboys: When will Mike McCarthy get the credit he deserves?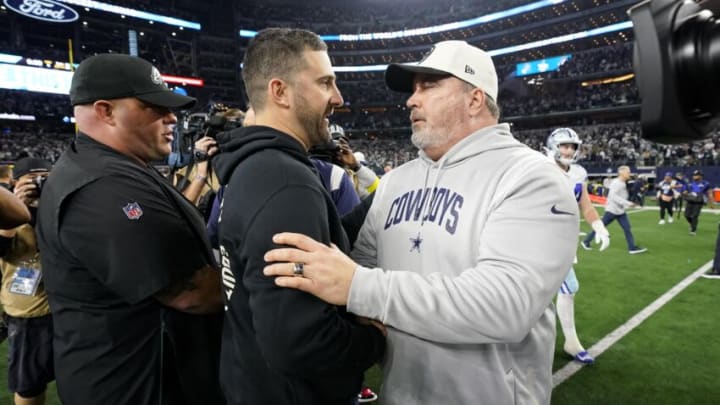 ARLINGTON, TEXAS - DECEMBER 24: Head coach Nick Sirianni of the Philadelphia Eagles and head coach Mike McCarthy of the Dallas Cowboys embrace after a game between the Dallas Cowboys and the Philadelphia Eagles at AT&T Stadium on December 24, 2022 in Arlington, Texas. (Photo by Sam Hodde/Getty Images) /
Tim Heitman-USA TODAY Sports /
Ever since Jimmy Jones rode off into the sunset toward the Florida Keys, Jerry has been the Wizard in front of the camera. What Jerry wants; Jerry gets as it pertains to the Dallas Cowboys. NFL head coaches build their path to success through their coaching staffs.
They hire assistant coaches who are aligned with them from an offensive and defensive strategy so that there is continuity and consistency. However, Mike McCarthy did not get that opportunity at least on the offensive side of the ball.
Kellen Moore was a holdover from the Jason Garrett era. Technically, Kellen Moore is a Jerry Jones' hire similar to Jason Garrett when Wade Phillips was the head coach. McCarthy has been able to blend their offensive strategies to produce one of the top offenses in the NFL.
The coaching situation around McCarthy has been tricky on the Dallas Cowboys
According to profootballreference.com, the Cowboys have the third overall ranked offense this season. Mike's offense has a west coast philosophy while Kellen Moore favors more of a formation-based offense similar to the offenses previously ran at Boise State.
Even though there were clear contrasts between Mike and Kellen, as a veteran head coach, he is making that relationship work to the point where a deep playoff run maybe at their fingertips.  Development is huge in all facets of life including the workplace.
Mike has not shied away from developing Kellen into a more effective young offensive coordinator. There is no doubt Jerry is controlling the coaching staff, but Mike is continuing to make lemonade with those lemons.