Dallas Cowboys: When will Mike McCarthy get the credit he deserves?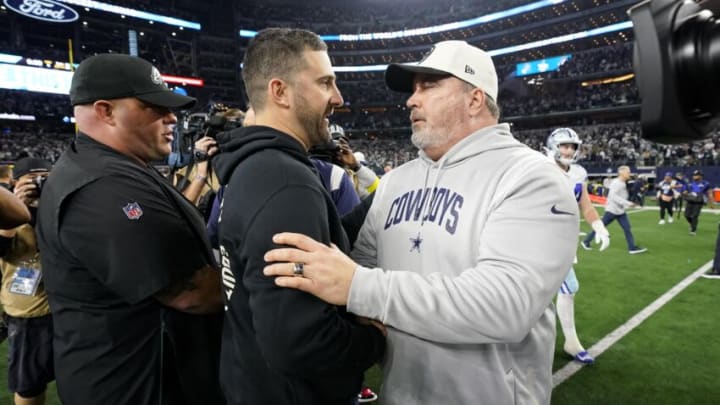 ARLINGTON, TEXAS - DECEMBER 24: Head coach Nick Sirianni of the Philadelphia Eagles and head coach Mike McCarthy of the Dallas Cowboys embrace after a game between the Dallas Cowboys and the Philadelphia Eagles at AT&T Stadium on December 24, 2022 in Arlington, Texas. (Photo by Sam Hodde/Getty Images) /
(Photo by Dylan Buell/Getty Images) /
No one knows what the future holds for the Dallas Cowboys. It's possible they could upset the 49ers and continue their playoff run all the way to the Superbowl. On the other hand, it could be a long trip back to Dallas from Levi Stadium Sunday night. In either case, the ghost of Sean Payton present will be hovering over this game as it has this entire season.
Mike McCarthy has effectively worked thru this pressure even though he hears the rumors, and he clearly knows the relationship Jerry Jones has with Sean Payton. He doesn't address the rumors and continues to be the model professional in one of the most high-profile jobs in all of America.
Until Sean Payton signs elsewhere, his shadow will loom over the Dallas Cowboys
Imagine leading a business initiative where you have three opportunities to get your company to a profitable space. If you fail, the boss will bring in a trusted friend to do the job for you.
That's the life Mike is living. Granted, he knew what the goal was, and he knew what some of the obstacles were but what he did not know was that there would possibly be someone waiting in the wings looking over his shoulder building that insurmountable pressure.
McCarthy refuses to look into his rear-view mirror and keeps his eyes on the road. The Payton rumors have not outwardly impacted him and that's the sign of veteran leadership that can position your team for long-term success.
Conclusion
While Mike McCarthy may not be everyone's cup of tea, he has a winning record in two of the most difficult places to coach (Green Bay and Dallas). He hasn't complained when he lost his starting quarterback. He has helped develop Kellen Moore rather than building a wedge between the two. Lastly, he has kept his eyes on the prize and not on the rumors swirling around about Sean Payton.
Should he be considered the next Bill Belichick? Not so fast. But he definitely deserves more credit than he's getting.