Dallas Cowboys Complete Mock Draft: The Future is Now (all rounds)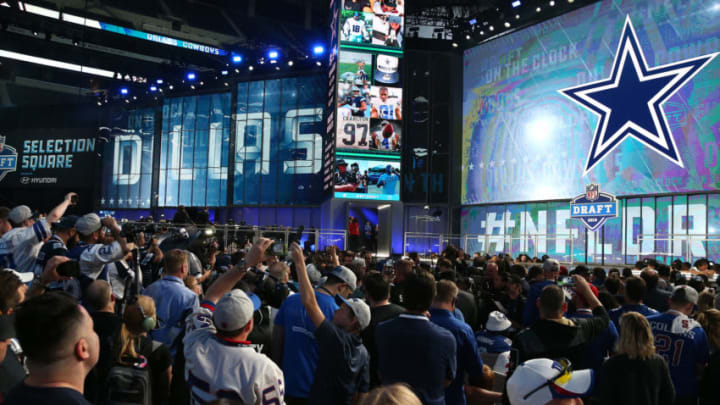 Matthew Emmons-USA TODAY Sports /
(Photo by Harry How/Getty Images) /
WITH THE 129TH PICK IN THE 2023 NFL DRAFT THE DALLAS COWBOYS SELECT:
In 2022 the Dallas Cowboys front office started playing an old game in a new way when they drafted Linebacker Damone Clark in the fifth round. This time they pull the trigger on a hurt player in the forth by selecting Andrew Vorhees out of USC.
For several years we'd seen the Cowboys take a leap of faith in the second round on talented players who had some sort of red flag. Many times, the red flag would be a medical issue and most of those times it was a linebacker like Sean Lee, Bruce Carter and Jaylon Smith. Until last season when the Cowboys took arguably a second round talent in LB Damone Clark in the fifth round. The move has been a good one so far.
Vorhees provided perhaps the most tragic and most inspiring moments of the NFL Combine.
The tragedy happened when Vorhees tore his ACL during workouts. The inspiring moment came when he laid down on the bench and repped out 225lbs 38 times with a cast on his leg instead of opting out due to his injury.
As a player at USC, Vorhees would likely have been a day two pick. Perhaps even an option for the Cowboys at pick 58 or 90. It's not uncommon for a player with an injury to fall a round. After all, the team would be giving a four year contract to a three year player.
The Cowboys, however, see this as an opportunity to get great value on the pick while helping the team be prepared for life without Tyron Smith in the future. Or perhaps life without Tyron Smith for a playoff run in 2023.
Vorhees brings tons of experience and versatility. He played most of his college snaps at Left Guard and Left Tackle, which would allow the Dallas Cowboys to put Tyler Smith definitively where they want him to be.
For the time being, the Dallas Cowboys will rely on Tyron and Tyler Smith to hold down the left side, but don't count Vorhees all the way out for 2023.