Dallas Stars bounce back with a vengeance and tie series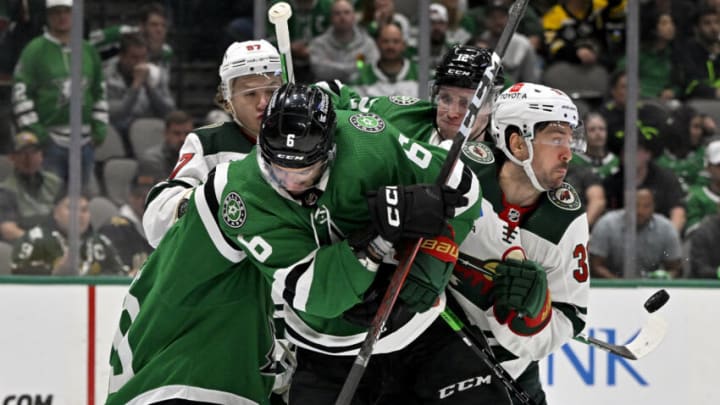 Jerome Miron-USA TODAY Sports /
Game 1 was a travesty. The Dallas Stars outmatched and outplayed their first round opponent and division rival, Minnesota Wild. But a 3-2 loss in double-overtime rendered that all useless. If the shots don't go in the net, nothing else really matters.
The loss stole home ice advantage from Dallas. It stole their offensive leader in Joe Pavelski. It stole sleep…
What it didn't steal is the Dallas Stars mojo. With or without Pavelski, the Stars were committed to showing the Wild exactly how much better they were.
The Dallas Stars put on a scoring clinic, tying up the series and showing their depth and dominance in the process.
The Dallas Stars are a star-studded squad. Losing Pavelski was bad but it wasn't crippling. Dallas has talent stacked on every line so it was only a matter of who would show up and when.
Roope Hint and Miro Heiskanen answered the call. Hintz providing the hat trick (only the fourth in playoff franchise history) and Heiskanen with four assists (a playoff record for the Dallas Stars).
More Stars got in on the action. In Dallas' 7-3 drubbing of the Wild, multiple players took out their frustrations from earlier in the week. Evgenii Dadonov added two goals and an assist. Veterans Tyler Seguin and Jamie Benn added goals.
As the Athletic's Dom Luszczyszyn pointed out, Of the 32 series' since 2006 which the home team lost Game 1 but won Game 2, half of them went on to win the series. It's not exactly a bold statement to say a 1-1 series has 50/50 odds but historically the numbers actually back that up (which isn't always the case).
What makes this situation different is the level of dominance the Stars have displayed over the Wild. Aside from next-level goaltending by Filip Gustavsson in Game 1, the Dallas Stars have dominated across the board.
A hot netminder has the ability to control a series singlehandedly. Luckily for Dallas, Minnesota threw ice on their hot netminder after Game 1 when they opted to start Marc-Andre Fleury instead. It's safe to say Gustavsson is likely to be back in net for Game 3 so it's up to the Dallas Stars to establish something quickly.
Dallas Stars writers wanted! Apply to Sport DFW (under "locals") here!
Sports Dallas Fort-Worth /
Want your voice heard? Join the Sports Dallas Fort-Worth team!
What does Game 3 hold? Hopefully more dominance and and continued success finding the back of the net.