Dallas Cowboys Draft: Position by position breakdown (defense)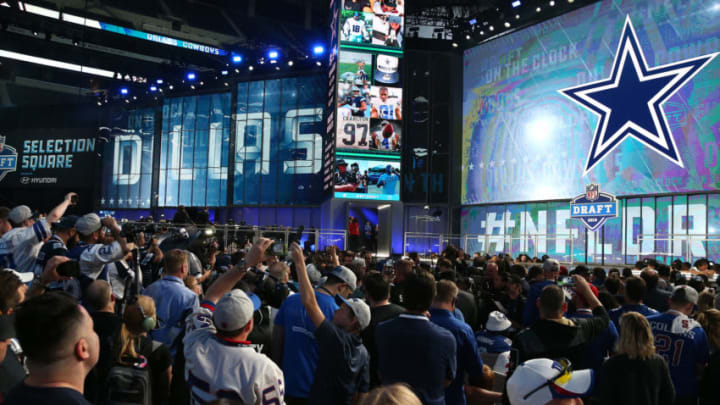 Matthew Emmons-USA TODAY Sports /
(Photo by Stacy Revere/Getty Images) /
Will McDonald IV
Will McDonald  is able to burst off the line with effortless speed and an incredibly fast first step. His energy is overwhelming, and he moves as quickly as a demon.
People are discussing his run defense. Allow me to provide some background.
Last year, Iowa State put 6-foot-4, 239-pound Will McDonald IV inside the tackles on 20% of his snaps in their three-man fronts. Even though he was asked to do a lot, he kept fighting but often struggled.
This was a crime. Iowa State put McDonald in a bad spot by having him line up at 4i and 5-tech, but he would be much better if he was a stand-up EDGE outside the tackle.
The "Leo" defensive end/outside linebacker position is the most significant piece in Dan Quinn's defense. Basically, the "LEO" act as a defensive end and a 3-4 weak-side linebacker blitzing at the same time. It needs someone with the ability to bend the edge effectively.
Paging Will McDonald IV.
McDonald would be a seamless fit for the "Leo". His great athleticism and one of the best first steps in this draft make him an effective edge setter from a wide 9-technique.
I wouldn't have any qualms if Dallas went with McDonald at number 26.
B.J. Thompson
B.J. Thompson is a tall, slender pass-rusher with tremendous speed and explosiveness right out of the gate. His listed measurements are 6'5″ and 240lbs.
He clocked a 4.56 in the 40-yard dash, jumped 11 feet 3 inches in the broad jump, and had a 40-inch vertical leap during the off season. His wingspan is a staggering 82.5 inches.
A freakishly talented edge who would be a another strong contender for the "Leo" role.
Felix Anudike-Uzomah
Felix Anudike-Uzomah stands out when it comes to alternating his rushes and staying engaged, even though his explosiveness and initial burst as a rusher are nothing special.
There is still room for refinement and he is not always consistent with getting into position to set the edge against the run. His run defense leaves a lot to be desired.
When he first arrived at Kansas State, he was only 220 pounds, but now he weighs 255 pounds. He is physically prepared for the NFL.
His 6'3″ build gives off the impression of an NFL outside linebacker. He is able to cover a lot of ground in a short time due to his lengthy legs.
Anudike-Uzomah averaged 0.85 sacks per game and was the leader in the country with six forced fumbles. He made Wildcats history by becoming the first player with two three-sack games while also registering 14.5 tackles for loss.
His 11 tackles for loss and eight sacks made him the Big 12 Defensive Player of the Year and he declared for the 2023 NFL Draft.
Viliami Fehoko
Viliami Fehoko is an incredibly powerful and intense rusher who can get to the quarterback while in a standing position or with his hands on the ground.
Fehoko is a defensive lineman who can be used in a variety of schemes, with powerful hands and an unrelenting motor. He has the versatility to play both inside and out, with enough strength and power.
During twelve starts in the 2022 season, Fehoko recorded 19 tackles for loss (tying for sixth in the FBS), nine sacks, 69 tackles and two forced fumbles.
People will criticize Fehoko for being too short and not being an elite athlete, yet he plays with a lot of energy in every game. That is attractive to NFL coaches, which could ultimately secure him a spot in the defensive line rotation.
NFL lineage runs in his family – his cousin is Vita Vea.