Dallas Cowboys are tied with the 4th toughest schedule. No big deal.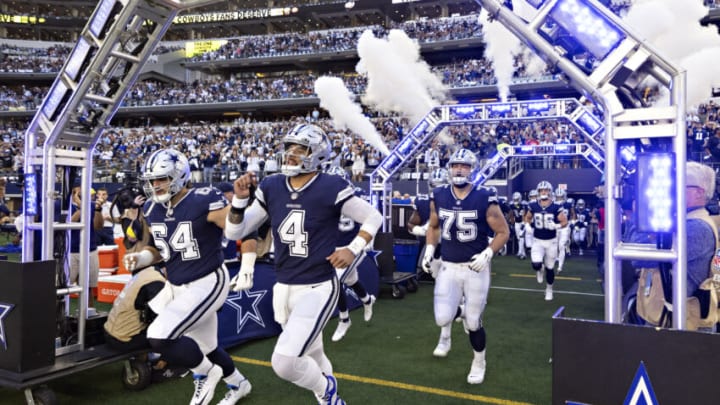 (Photo by Wesley Hitt/Getty Images) /
The NFL released their schedule last week and the Dallas Cowboys were rewarded with six prime time games because they bring in high ratings and make tens of millions of dollars for the NFL. Add in their traditional Thanksgiving game, and the Dallas Cowboys have seven prime time games.
Being a money maker for the NFL shield is one of the biggest reasons why the Dallas Cowboys get some of the best match-ups in the most primetime games. So, when the Dallas Cowboys play, you can always expect excitement, with more ups and downs like the Kardashians reality show.
Because Dallas went 12-5 in the regular season (won one playoff game) and finished in second place, they have a harder schedule in 2023 and the critics are already predicting more losses. Some critics are already capping their season with 9 or 10 wins with the Dallas Cowboys losing in their season opener to the reenergized New York Giants! My Gawd!
The Dallas Cowboys are tied with the 4th hardest schedule in the league, but the Cowboys are in a position to overcome the hard schedule and achieve much more.
As of right now, the Dallas Cowboys have the fourth hardest schedule in the NFL and all of the talking heads are giving out predictions on Dallas' success as if they are Nostradamus. There is so much irony in predicting a football team's successfulness because football is a contact sport where an injury to a quarterback and other skill position players can tilt the balance of power instantly.
So, Dallas is tied with the fourth hardest schedule in the NFL. So what? Who cares? I say that because Dallas is well equipped to handle a hard schedule and match last year's win total (13 total wins), win the NFC East, and make a deep playoff run. I say that with my chest out not because I am a fan but more out of the objectivity of what this roster is comprised of how they upgraded in the necessary areas to be Super Bowl contenders.
If the Dallas Cowboys did not make the aforementioned upgrades to its roster or have the horses to win the race, this article would be totally different. But since that is not the case, we can dive into why a hard schedule does not matter to a team that is in position to surprise everyone.