Dallas Cowboys-Toast of NFC East?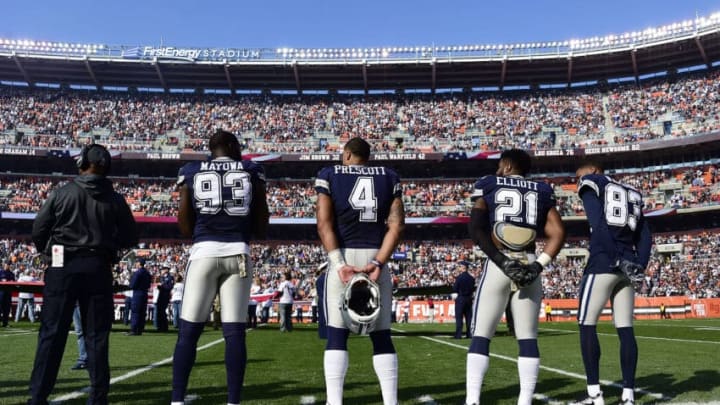 CLEVELAND, OH - NOVEMBER 06: Benson Mayowa /
Are the Dallas Cowboys the favorites to win the NFC East?
With Dallas Cowboys training camp approaching, it's only fitting that we debate who wins the NFC East this season. Personal feelings aside, my thoughts are that Dallas will be crowned champs again. Let me explain why.
I will first go over each team and what they have done. I'll give you my takes, then my predictions, and finally my assessment on why the Cowboys will be the first repeat NFC East champs since the Philadelphia Eagles in 2004.
Washington Redskins
Personally, I think the Redskins had the best overall draft in the division. They managed to get steals at a few positions. One is Johnathan Allen, who somehow dropped to 17th where the Redskins nabbed him. Now, this pick pained a lot of Cowboys fans who were probably sitting there praying for him to continue dropping. He's a force at defensive tackle and will help push the pocket well for them if his shoulder holds up. What team would they need a player like this for? A team with one of the best offensive lines in football. You guessed it, the Cowboys.
More from Dallas Cowboys
Now if it weren't enough that the Redskins got a top ten pick at 17, they also managed to grab Fabian Moreau, the CB out of UCLA in the third round. Before his injury, he was considered a first round pick. Now these two kids are studs, and will factor in to this team instantly.
The Redskins already had a very potent offense last season. They ranked 3rd in yards and 2nd in passing yards, so helping out the defense makes sense. However, they also lost two key components of that offense in DeSean Jackson and Pierre Garcon.
They brought in Terrelle Pryor and have Josh Doctson coming back from injury, but the offense won't be nearly as productive. Yes, they have Jordan Reed, but really, for how long?
With all of that being said, the Redskins can contend. Realistically though, a 3rd place finish seems in their future this season.
Philadelphia Eagles
The Eagles have had a pretty good off-season as well and definitely have gotten better. Already boasting one of the best front sevens in football and ranking 13th in total defense, they needed help on offense much more after finishing 22nd overall.
Enter Alshon Jeffery, Torrey Smith, and LeGarrette Blount. They represent some help for Carson Wentz. There are only a few issues with this. First of all, Blount is literally the only one of these guys that can stay healthy.
The other issue is that Wentz looked terrible throwing anything over 20 yards last year. Now, he has been working on his mechanics and throwing motion this off-season, so perhaps that has been corrected. However, until we see it on the field, most people are going to keep the same version of Wentz in their heads that they had at the end of last season.
Their draft was also very good. They picked up Derek Barnett, who has been nothing short of spectacular at OTA's. Sidney Jones was a projected 1st round pick before his Achilles injury. Rasoul Douglas was also taken much lower than I had him projected. Props to the Eagles for picking at areas of need, because their secondary was in pretty rough shape.
If these guys all stay healthy and Wentz is much better than last year, this team could be a force to be reckoned with. Mark my words, if all of those chips fall, Philly can be right up there at the end of the season. As it stands now though, the chances are slim. A last place finish looks to be on the horizon if all of those things don't come to fruition for the team.
New York Giants
This is the team that should scare everyone:  a lot. The only thing standing between the Giants and the NFC east crown is the Cowboys. The Giants are the only team that beat them last season (with the starters in) and one of the best defenses in the NFL last year. This team has all of the tools to be contenders: not only for the East, but for the Super Bowl.
Now, this all hinges on how well Odell Beckham Jr. gets along with Brandon Marshall. That has meltdown written all over it, but we will see. This also depends on Eli Manning staying healthy. Judging by history it shouldn't be a problem, because that man has been an iron man for the Giants during his career and his interceptions seem to be piling up.
There is one thing that still baffles me though. Eli is getting up there and yet, they haven't addressed the offensive line at all. For a team that couldn't run the ball and who allowed their QB to be hit as much as they did, the chances of him staying healthy at his age, go down significantly.
Now they also brought in Evan Engram, who will be just another weapon for Eli to throw to: especially in the red zone. So as stated above, they have the chance to be a contender next year, but it will all hinge on their run game. That's if they can keep Eli alive. Which, judging by last season and with nothing done to address it, doesn't seem likely.
Prediction
A second place finish looks to be about right for them, unless they magically establish a run game. Then, it's a toss up.
Dallas Cowboys
Well, here we are with the point of the article. Can the Cowboys be the top dog again?
After losing almost their entire defensive backfield to free agency and two starting offensive lineman, most people would say no. However, what the Cowboys have done this off-season could prove to be genius if it plays out. But to some that is a huge if.
Offensive Line
The offensive line lost two starters in Doug Free (retirement) and Ronald Leary (free agency). Now for most teams, this would be very bad news. For the Cowboys, not so much. They still have their corps of All-Pro linemen in Tyron Smith, Travis Frederick, and Zack Martin. They also have La'el Collins, who if you remember a couple years back looked very promising starting at guard.
He swings out to right tackle and they have Johnathan Cooper, who is a reclamation project for sure. He is also playing in between Smith and Frederick, so the drop off may not be as bad as some may think.
Secondary
Losing over three starters in your backfield is bad for any team. For a team with a secondary that was bad as it was, this should have been catastrophic. However, the powers that be went into the draft and did what they needed to do, replacing almost every player with a rookie. These weren't just any rookies, mind you.
They brought in two solid rookies who love football and have a nose for the ball. Chidobe Awuzie is a student of the game and a sure tackler who plays with toughness and passion. In my previous article, I went on about Jourdan Lewis. So, I won't do that again. However, the kid has the makings to be a stud.
Xavier Woods somehow managed to last until the sixth round and the Cowboys traded up for him. He just finds the football wherever it is. So in reality, they are all rookies and there will definitely be a learning curve, but these kids are super talented and will be an upgrade. If they don't improve this season, the secondary stays just as bad as it was last year and not much changes from that aspect.
Next: DeAngelo Williams was right, but that's a good thing
Offense
There's no need to go into too much detail here. The offense is basically the same as last season, except for one player: Ryan Switzer, the shifty WR out of North Carolina. This young man is as tough and elusive as they come. He also brings something the Cowboys didn't have last year with his return game. The ability to flip the field on the opponent is something the Cowboys haven't been able to do since Dwayne Harris left for the Giants. This is huge, and no one is making a big deal out of it. Imagine that the Cowboys starting just 15 percent more of their drives from past the 25 yard line. I'll just leave it at that.
Prediction
NFC East Champs once again.