Dallas Stars must now build on their successful season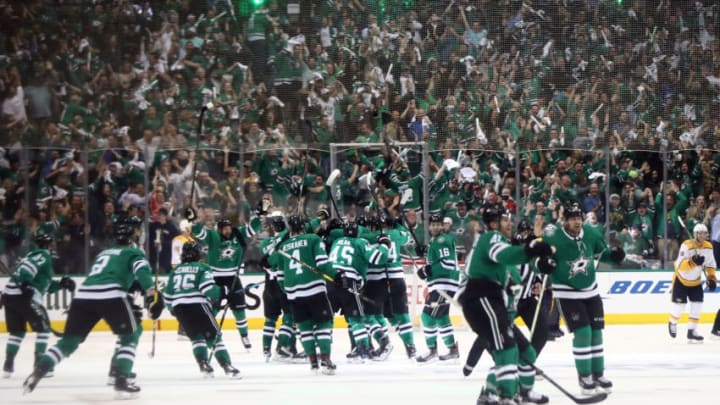 DALLAS, TEXAS - APRIL 22: The Dallas Stars (Photo by Ronald Martinez/Getty Images) /
Sure, the Dallas Stars had a successful season. But the challenge now becomes sustaining that success and becoming a perennial contender
To anyone that follows the Dallas Stars, we all know what happened by now. Goalie Ben Bishop's superhuman efforts fell just short as the Stars lost a memorable Game 7 in St. Louis. With Dallas under siege for most of the second and third periods, it was quite a miracle that they held on to force two overtimes. Worse yet, despite being outplayed for large stretches of the game, the Stars themselves had plenty of chances to win.
But moving on from all that, their season is over now. There is nothing left to do but watch and wonder what may have been as the remaining teams carry on into June. Is there disappointment? Absolutely. You don't get that far into the playoffs without thinking your team might actually have a chance to win it all. But the sadness is tempered by the fact that they got there in the first place.
This team wasn't supposed to compete this hard for this length of time. Just after Christmastime, the team president, acting as the mouthpiece for the owner, used some harsh and public language in lambasting his top players. It's debatable whether or not his words had their desired impact, because the Stars were basically treading water at the time and hadn't snapped out of their doldrums.
The team was already having their own difficulties creating offense. That improved as the season wore on, but it ultimately reared its head when they had two chances to advance to the conference finals. So given all that adversity, it's a tribute to the players and coaches that they simply kept persevering until they found their stroke.
But somewhere along the way, they did hit their stride. Credit the players for seeing the light and understanding that their way was through a commitment to defense and solid goaltending. But if we're searching for a true team MVP, then one has to consider first-year head coach Jim Montgomery for that honor.
This franchise had just tried the gambit of utilizing Hall of Fame coaches to extract this team's potential. If we're talking playoff berths, those results were spotty at best. But what Montgomery did was find which buttons to press and which levers to pull, and that almost got them to the Western Conference Finals. You really can't ask for more from a rookie head coach.
More from Dallas Stars
But now that we've all had a taste of success, it only compounds from here. How do the Stars build upon it? Well, the desire to defend and play positionally sound hockey is a good start. But you still need to score more.
Not for nothing, but Dallas had the worst goal differential of the eight Western Conference playoff teams  To that end, be confident that they'll do what they can to re-sign winger Mats Zuccarello to a new deal. His playmaking ability would allow the Stars to become a bona fide two-line scoring team.
Add in the burgeoning sniping ability from winger Roope Hintz, and you can see how this bunch could blossom into a Central Division powerhouse.
But we've been here before. I heard someone say on the radio last week that the Dallas Stars have been "one or two years away" for the last five, and that is entirely true.
As warm and fuzzy as we all feel about this last bit of success, the last thing anyone wants to see is another year where they fall off and fail to make the tournament. It doesn't feel like that this time around, but now it's up to them to prove it. A new season is only five months away.
Published on 05/13/2019 at 12:00 PM
Last updated at 05/13/2019 at 11:11 AM