How the Dallas Stars saved their season…for now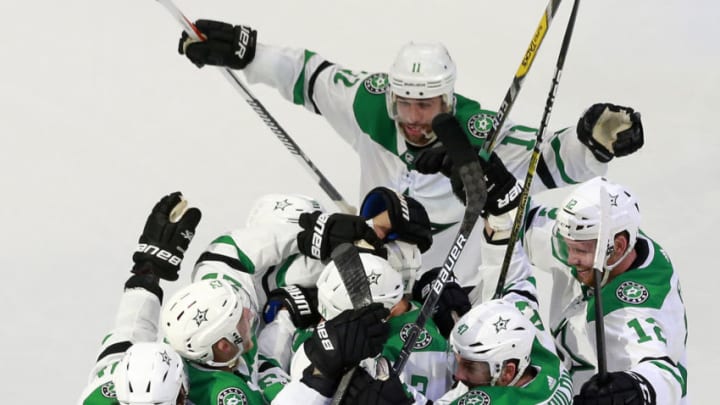 EDMONTON, ALBERTA - AUGUST 16: John Klingberg #3 of the Dallas Stars celebrates with his teammates (Photo by Jeff Vinnick/Getty Images) /
The Dallas Stars kept battling and tied their series in spite of themselves.
These Dallas Stars have some glaring flaws in their game. At this point, I'm not sure if it's because the Calgary Flames simply match up well against the Stars, or if Dallas just can't get out of their own way. As is usually the case, the truth likely lies somewhere in between. Nevertheless, I wasn't exactly bullish about their chances in the playoffs.
They just looked slow and old as play resumed. Additionally, they were having a monumentally difficult time scoring goals. In short, they had an air of "Anywhere But Here" in their general demeanor. All signs were pointing to a hasty exit from the NHL's western hub in Edmonton.
Well, they may still exit in the first round. It's hard to tell how the rest of this series will play out. But we now know that it will stretch to at least six games. For all their warts, the maddeningly inconsistent Dallas Stars are weirdly consistent in one department: resiliency. Time and again, they shot themselves in their collective foot on Sunday afternoon. But when the dust settled, they found themselves tied at two games apiece after a roller coaster 5-4 overtime win.
It's not as though they played poorly–far from it. In fact, for long stretches of the game, the Stars dominated the action, especially at even strength. What got them in trouble was their penalty kill, and infuriatingly, their power play. Despite tallying twice on the man advantage, they gave up two goals when Calgary was up a skater. The other catastrophic moment occurred during a brain dead sequence on a power play that resulted in a shorthanded Flames' goal.
More from Sports Dallas Fort-Worth
But enough about the mistakes that could have cost them the game. What's important is that the Stars lived on to fight another day. It's not like the series would have been over had they lost, but you'd much rather play from evens than down 3-1. The Stars absolutely earned that "W" yesterday, and it was largely due to a player they brought in precisely to score big goals in the playoffs, center Joe Pavelksi. Moreover, Pavelski picked a grand time to notch his first career playoff hat trick when he backhanded a puck passed Calgary goalie Cam Talbot to tie the game in the dying seconds of regulation. To say it elicited a massive reaction on the home front would be an equally huge understatement.
Make no mistake, yesterday's victory was a character win. The Stars had every opportunity to lose and were staring into the abyss of a 3-1 deficit. It felt like a minor miracle that they came back to tie the game, but they hit the ice in the overtime period and were clearly the better side.  So when defenseman John Klingberg's blast got tipped in by right winger Alexander Radulov, it felt like a just reward for all their hard work.
It's taken me a little while to get into the playoffs this season. It's for obvious reasons on one hand. I mean, we're in the midst of a global pandemic and we've never had playoff hockey in August before. But on the other hand, I must admit to a measure of apathy and pessimism about this squad. In light of yesterday's result, however, that has changed a bit. It's as though the Dallas Stars needed to give me a reminder of how much I like this. Now I remember, and now I want more.