Dallas Stars: Season finally set to start after COVID-19 delay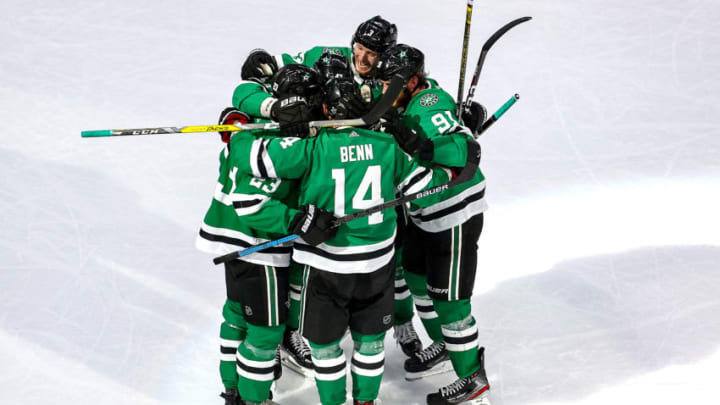 (Photo by Bruce Bennett/Getty Images) /
The Dallas Stars were originally scheduled to begin the defense of their Western Conference championship last Thursday. But in a time when everyone's schedules are somehow affected by the global pandemic, a wave of positive tests up and down the Stars' roster forced a stall as the team and the league tried to figure out a way to regroup.
Well, that time has been established. The Stars will begin at home against Nashville on Friday night. In a way, I feel it's better to start the season versus the familiar Predators than a random, former Eastern Conference team like Florida.
But in this newly-aligned, plagued-shortened campaign, everyone's going to play everyone eight times. It's going to get chippy. I am excited about that!
After a delay brought on by Covid-19, the Dallas Stars are ready to commence.
I'm also encouraged by the results of the last two seasons from these Stars. Extended runs have been the rule and not the exception. If you've followed this team to a fault, then you're fully aware that berths in the postseason didn't exactly fall from the sky. So the fact that we've seen the franchise at their playoff best recently suggests they've begun to fill out some potential.
The problem here is that that potential has taken a long time to manifest itself into a semblance of success. In fact, the Dallas Stars have been pretty salty these last couple of seasons almost in spite of themselves. The front office has famously called out their two marquee players. They've had four different head coaches in the last seven seasons, one of which was dismissed under nebulously abrupt circumstances at the time.
More from Dallas Stars
In the meantime, the aforementioned marquee players, Jamie Benn and Tyler Seguin, have endured the rigors of NHL life for years and are now on the backside of their careers. Their window is closing pretty soon. This is not to say each couldn't have two or three more productive seasons in their future. But because it's taken those two in particular so long to start enjoying some extended run, it's suffice to say that the Stars are firmly in "win now" mode. The cupboard isn't bare beyond Benn and Seguin, though. It's just that their time as keystones on a championship contender is limited. In short, time is of the essence.
But as far as the rest of the roster is concerned, General Manager Jim Nill seems to have hit on several young players, many of which have been–or will be–signed to contracts to keep that nucleus in place. When you see names like defensemen Miro Heiskanen and Esa Lindell and forwards Denis Gurianov, Roope Hintz, and Radek Faksa, it becomes much easier to see a future once the veterans start to move on.
It will be interesting once the games start to see how the team and league navigate through this pandemic-stressed year. The limited travel should help, and the fact that we're going to see so many games against the same teams should create a sense of rivalry that we're not used to. Plus, for us old-timers, it's going to be fun to rekindle some good old hate for Detroit. So let's get it going.