Discipline and Defense lead the Dallas Cowboys to victory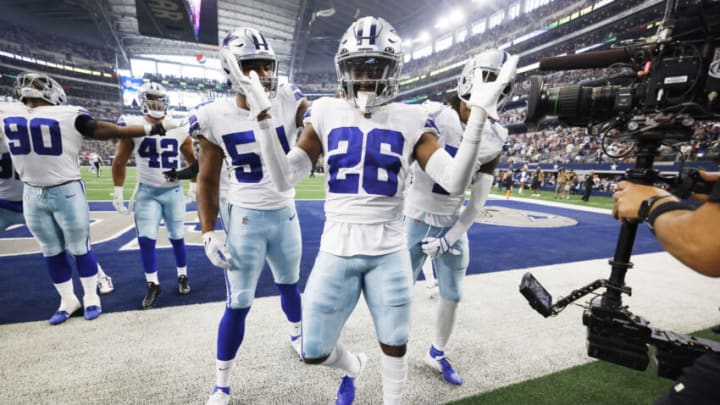 (Photo by Wesley Hitt/Getty Images) /
This has been one of the most satisfying stretches of Dallas Cowboys football in a long time. Sure, last year the Cowboys had multiple stretches of success during the season but that was with a healthy squad of players. The Cowboys have been playing sound and secure football, lead by Cooper Rush, on the road to a 3-1 record and holding second place in the NFC East.
The stress and panic seen throughout Cowboys twitter was real and we were staring at the bottom of the division for the remainder of 2022 season. No Dak Prescott, no Michael Gallup, no Tyron Smith, etc. You get the point.
The season felt like it was already an uphill battle in August but the Dallas Cowboys never waivered. Noah Brown has established himself as a solid WR2 and Gallup was able to get right back to where he left with his first touchdown since January 2nd against the Cardinals. There is plenty reason to be optimistic as the Cowboys continued to cruise through their division.
The Dallas Cowboys defense still owns Carson Wentz
"It's Dallas Week" is what it said on a conveniently deleted post from Commanders twitter. They even decided to bring out their shiny new black alternate uniforms for such an occasion. Seems like whenever Washington does a promo along the lines of "We want Dallas" things don't always end so well. Perhaps they should reconsider.
Enough gloating though. A stat of note is the lack of penalties committed by the Cowboys today. They were able to commit only four in Sunday's game with two on each side of the ball totaling only 20 yards.
It has been an unfortunate trend for them where in the most crucial moments a flash of yellow often appears in the bottom corners of my screen. Today, they were able to show discipline, committing the least amount of penalties this season and the least since the last meeting between these two teams in week 16 of last year (3).
Offensively it might as well have been 2020. Ezekiel Elliott led the team in touches with 19 taking more the half of the carries, CeeDee Lamb lead in receptions, yards, scoring a touchdown and Gallup grabbing himself a TD as well.
Not leaning much on Tony Pollard was an interesting tactic and when they did give him the ball he was very inefficient, eight carries for six yards. Very uncharacteristic of Pollard, though it didn't matter for the result.
The defense was doing exactly what it has been doing all season long. The Commanders passing game was silenced other than the lone Jahan Dotson touchdown. Washington has a sneaky good receiver group with Terry McLaurin, Curtis Samuel, Jahan Dotson and the secondary was able to limit that group to 96 total yards which was 56% of Wentz's total (170).
Micah Parsons has been silent in the sacks department these last two weeks but that has not minimized is impact on the field. Parsons has been drawing double teams all over the place and this has opened up the field for guys like Dante Fowler Jr. and Neville Gallimore. Parsons was also able to stick with Terry McLaurin when he went out for a route.
That level of athleticism doesn't have to be found only on blitz plays and if you don't know by now, Micah Parsons is far more valuable than the number of sacks he accumulates and he continued to show it today.
The Cowboys are riding a real nice wave of momentum right now, winning three straight and Cooper Rush is still undefeated in his NFL career. Next week is greater test as the Dallas Cowboys travel to Los Angeles to play the Super Bowl Champion Rams.
Sports Dallas Fort-Worth /
Want your voice heard? Join the Sports Dallas Fort-Worth team!
They've already beaten the runner-up, why not take out the champ as well?