Texas Rangers primed for first exciting season in forever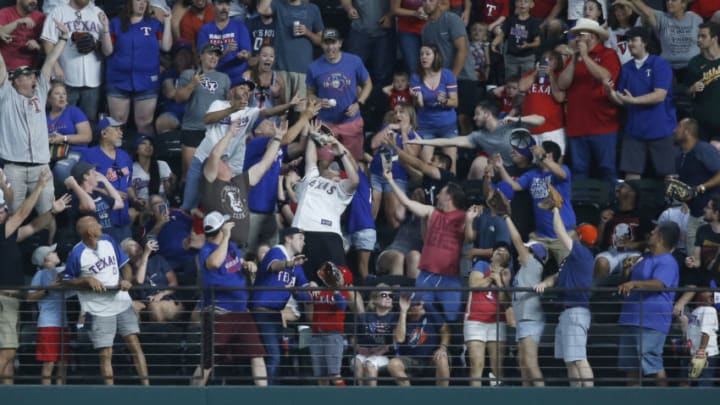 Tim Heitman-USA TODAY Sports /
Forever may be a stretch, but ask any Texas Rangers fan and they will readily admit that it's been a while since they had something to be excited about. Over the past decade the Rangers have been systematically purging old and churning in new.
Aside from the occasional glimmer of hope of an exciting prospect rising up the ranks, fans have been tempered in their expectations as of late. Even the hoopla that typically accompanies a new stadium was given an ice bath when COVID befell society.
This season, the Texas Rangers will be fielding their most exciting team in arguably a decade.
Jon Daniels' subtle moves are a thing of the past. Chris Young is calling the shots and that means no patience for patience. He backed up the most active day in free agent history last offseason with a flurry of high-end spending again this past winter.
With the finances finally in order and ownership willing to spend like never before, the Chris Young-led Rangers are a different breed.
Instead of one or two players for fans to buzz about there are a litany of players deserving of excitement. From high end free agents like Jacob deGrom and Nathan Eovaldi, to ascending prospects like Josh Jung, to last season's super stars (who normally would be getting all the buzz) like Martin Perez, Corey Seager and Marcus Semien. The Texas Rangers have something to be excited about just about everywhere.
Does that mean they're destined for greatness?
Of course not, it simply means they have storylines at every corner with high variance players offering a wide range of possible outcomes. That's pretty exciting.
deGrom may be the best pitcher in baseball. He also might miss half his starts. That's exciting. The Texas Rangers rotation could be the best in the AL but they could also be a revolving door of injuries and prospects.
Speaking of prospects, the Rangers have multiple young pitchers on the cusp. How they slot into the rotation and in relief this season will be exciting to see. Many of them hold high potential and fans should start seeing a steady pipeline of breakthrough pitchers.
For the first time in a long time the Texas Rangers have something to be excited about. Littered with entertaining storylines and potential outcomes, the new season promises to be more entertaining (good or bad) than fans have seen in a while.
What are the expectations of the season? That's a topic for another day. Right now is all about the excitement because after years of ho-hum storylines, Rangers fans deserve this